Last week we posted our Elliott wave forecast for the CurrencyShares British Pound Sterling Trust NYSEARCA: FXB that showed what an upward correction might look like within the larger declining trend.
The forecast is working well so far, but it may be helpful to put the rapid up and down move of the past week into context.
We believe FXB is reaching for the low that would mark the end of downward wave (iii) in the wave count that started early in 2018.
As we described and sketched for our main Elliott wave scenario, the British Pound was likely to find resistance near 119.38 before testing lower again to complete wave (iii). 
That is exactly what happened. Price reversed from 119.29 and has gone on to reach slightly beneath the August low.
So we are writing this post to caution traders against thinking that the up-down move over the past two weeks represented the expected corrective wave (iv).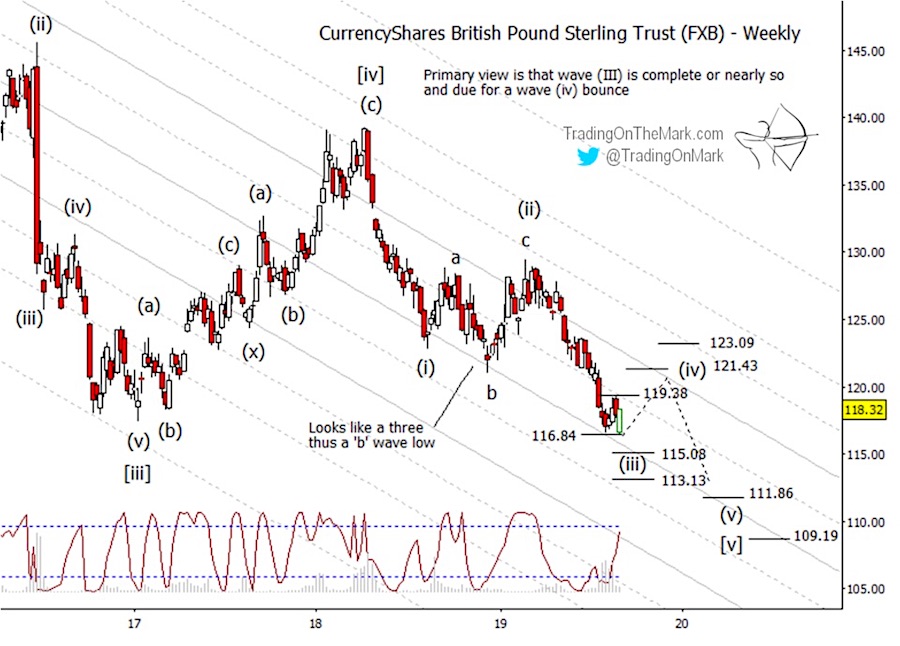 The current marginal low appears still to be part of wave (iii), and it might be allowed to test even a little bit lower before the correction begins. There is potential support at 115.08 and also 113.13.
After price finds durable support nearby, the corrective wave (iv) could send price generally upward or sideways. The resistance areas at 119.38, 121.43, and 123.09 are candidates for the upper boundary of the correction.
Eventually downward wave (v) should take price to a deeper low sometime in 2020 or later. The terminal low should be a good long-term buying opportunity.
Did you know that every month we select one recipient of our free newsletter to win a four-week access package to our premium subscription service? The newsletter brings you even more charts and in-depth analysis to help with your trading. Request your copy here!
Twitter: @TradingOnMark
The authors may have a position in the mentioned securities at the time of publication. Any opinions expressed herein are solely those of the author, and do not in any way represent the views or opinions of any other person or entity.