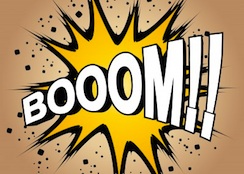 By MarketPlunger      It's that time again. You know the time when peeps are all up in a tizzy over a big market move and now the market is trying to figure out which way it's gonna go. Since everyone has decided to stand up on their desk, wave their hands frantically and proclaim they know where we are heading next then imma do it too.
First of all everyone chill out. It's all gonna be ok. Some of us will be right and others will be wrong. One thing is for sure. You have no clue where it's going. If you think you do, stop. Please take your bat and ball and go home. Most likely you will be wrong and you will end up getting your teeth kicked in.
Okay enough preaching.
First let's check the weekly e-mini SP futures chart (click to enlarge):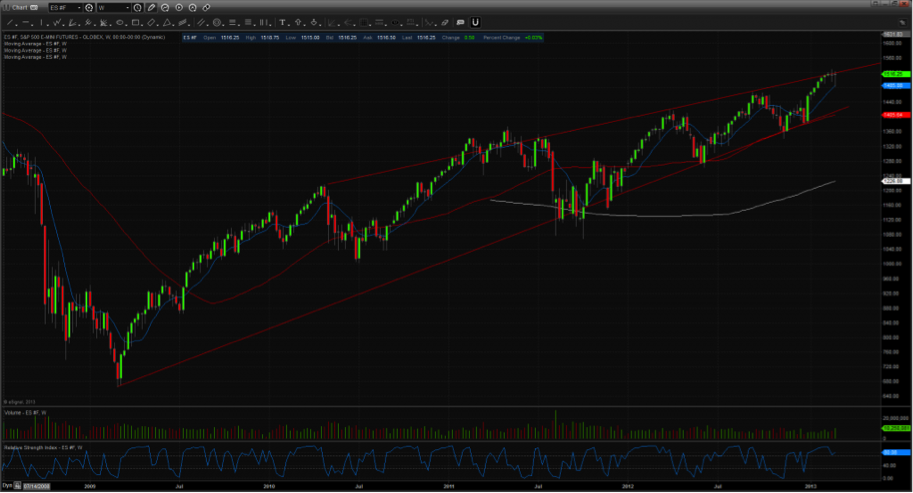 Keep this week's move in perspective. We are still pretty high above the lower trendline going back to the 2009 lows. Unless we plunge past the low of the week by Friday we are still well above it. Notice that we pretty much bounced right off the weekly 10sma and rallied right back. Nothing too unusual when viewed at this level. One thing that catches my eye is the fact we are right back at the upper trendline. With the exception of a few weeks in 2011 where we closed above it we haven't been able to break out. This pattern freaks out a lot of people, the ol' rising wedge formation.
I'm no expert on chart patterns but apparently these wedges don't always end up very well. Who knows, it's just a pattern on a chart and the damn things fail all the time. I have no clue if we will plunge like some say we will but if we are headed back down to the lower trendline again I wouldn't be surprised. On the flip side in order to break out higher from this trend we are going to need some help. I'm thinking there's a good amount of people that want to sell above it. Look at last Friday as an example(and pretty much every time over the last few years that we've been trading at the upper trendline.) The buyers dry up and we head back down. I'm not saying we can't break above, of course we can, I'm just trying to be objective. If we do head higher we will probably see a bunch of resistance. We are getting pretty close to the all time spooz highs and it's hard for me to imagine not seeing a fight when we get there.
Now a look at the e-mini SP futures 4hr chart going back to the beginning of the year (click to enlarge):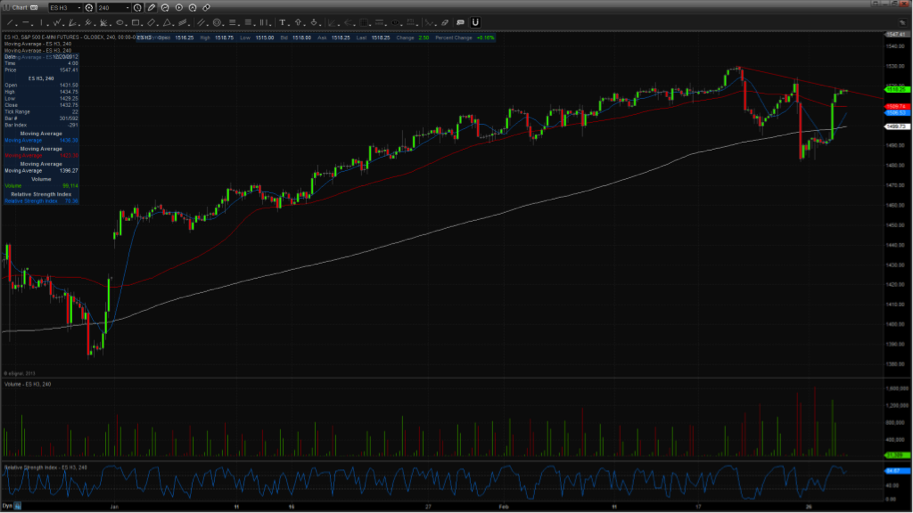 We've been steadily grinding higher all year and then all of a sudden things got a little shaky. Queue the headless chickens….
I'm not sure what to make of this. After Monday it looked like some serious technical damage was done but of course true to the market's batshit crazy form, we rallied back up to the descending trend line that I have up there. When I was drawing the thing I figured we'd see it again but I didn't expect it to happen so soon. Go figure. The action yesterday was pretty solid but I'd be careful thinking we are in the clear and ready to rip higher again. We are sitting at a big spot right here and we aren't in the clear yet.
I see the bull case and the bear case but it feels like we are losing momentum. I've felt like this for a few weeks now but in the end I have no idea and I've been wrong before. The momentum could always pick back up and the rally continue on.
There's so much more I could get into but I don't want to bore you all to death so I'll stop here. Before I go I want to leave you with this quote from Jesse Livermore's "How to Trade in Stocks". It seems fitting due to all the people trying to search for a reason why we are moving like we have been. Even though he wrote this over 70yrs ago it still rings true today.
"We know that prices move up and down. They always have and they always will.
My theory is that: "Behind these major movements is an irrestible force."
That is all I need to know. It is not good to be too curious about all the reasons behind price movements. You risk the danger of clouding your mind with non-essentials. Just recognize that the movement is there and take advantage of it by steering your speculative ship along with the tide. Do not argue with the condition, and most of all, do not try to combat it" -Jesse Livermore
Word.
Twitter: @MarketPlunger   and   @seeitmarket
No position in any of the mentioned securities at the time of publication.
Any opinions expressed herein are solely those of the author, and do not in any way represent the views or opinions of any other person or entity.