Stock market investors appear to be just fine with the decline in US treasury yields.
They are thinking that the economy is slowing but not recessionary – perhaps it's "just right". Well, we'll see if the Federal Reserve statement today gives investors what they want.
Today's chart provides support to this potential storyline. Below is a chart of the 10-Year US Treasury Yield (INDEXCBOE: TNX) versus the S&P 500 Index (INDEXSP: .INX).
As you can see, treasury yields are testing support at the 2017 lows just as momentum is reaching its lowest level since 2016 at each (2).
It's noteworthy that treasury yields hit key lows as momentum was oversold in 2016 at (1) and stocks took off higher (bullish).
Stocks could breakout at (3) and receive bullish news from yields if they rally at (2).
How the market reacts to the Federal Reserve this week could be telling. Stay tuned!
Treasury Yields vs Stock Market Performance Chart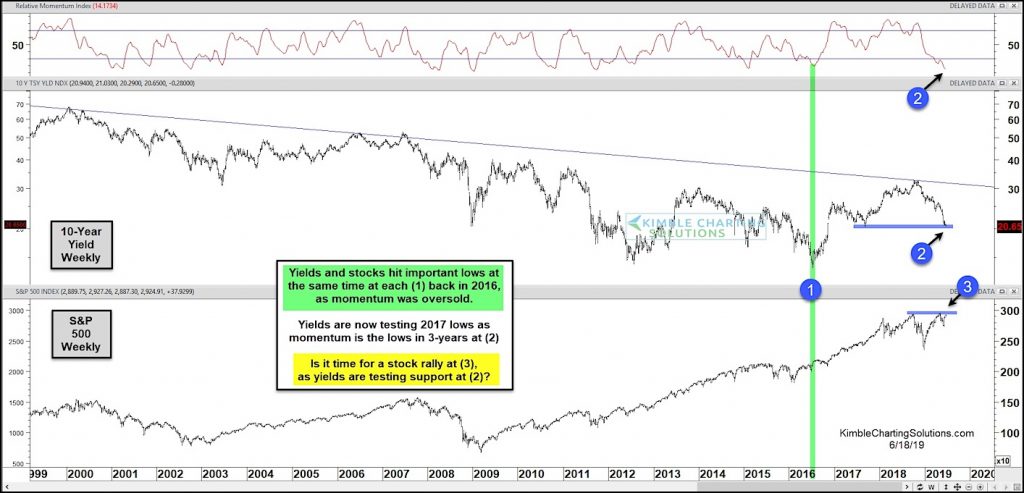 Note that KimbleCharting is offering a 2 week Free trial to See It Market readers. Just send me an email to services@kimblechartingsolutions.com for details to get set up.
Twitter: @KimbleCharting
Any opinions expressed herein are solely those of the author, and do not in any way represent the views or opinions of any other person or entity.