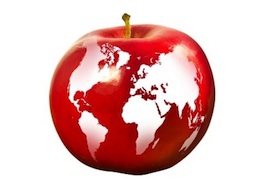 Apple is mostly treading water today just prior to its Q3 2013 earnings release, but with a tentative technical sigh of relief.
As we covered in more detail last month, after spending the balance of 2013 consolidating lower, the stocks ran throughout the Summer from below $400 to above $500 (also see Andy Nyquist's note on this level here); only to be slapped back hard in early September by the gap resistance left over from January to a low near $440. Undaunted, $AAPL has moved back through the balance of the 400s over the past 6 weeks, slicing effortlessly through September's resistance and now sits just atop $525 in the hours before we hear from Cupertino.
Ahead of Apple Earnings (AAPL) – Weekly Chart: The Way To $600 May Prove Very Challenging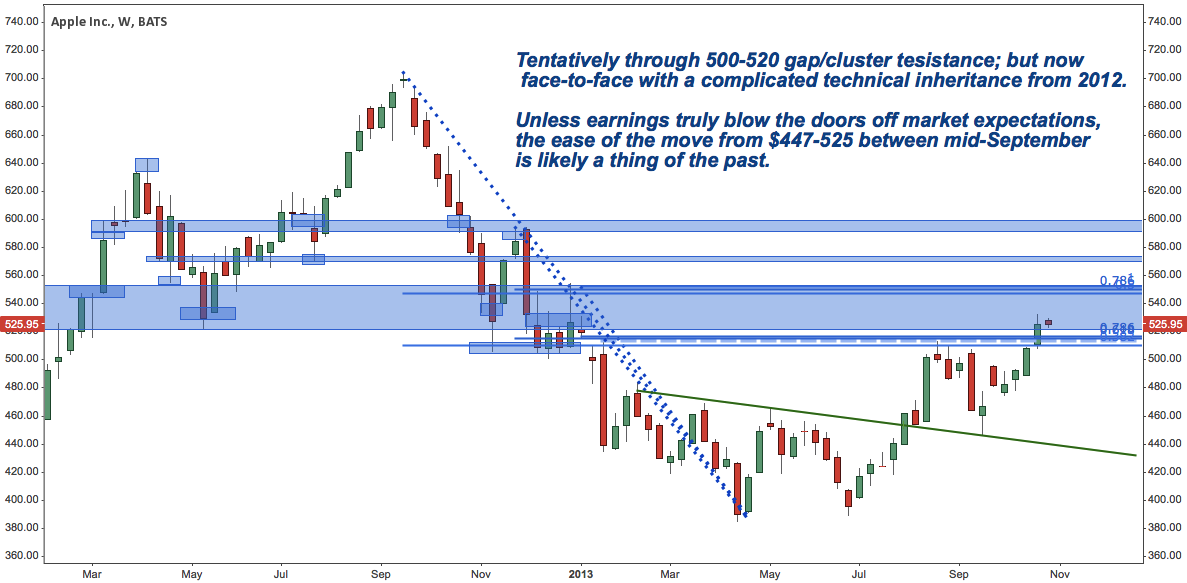 Apple could use some earnings-driven therapy here.  Above $525, the stock is faced with a complicated technical inheritance that it needs to get past to mount anything vaguely resembling a credible challenge to its all-time highs of last September.  Price – the many gaps and volatility of March 2012-January 2013 – can have a long and haunting memory, leaving behind a complicated legacy of support and resistance.  If late August/early-September's respect of January's gap is any indication, it could be a bumpy ride from here.
How willing the market is to work through its complicated recent history with the stock will determine if Apple's upward momentum is given a lasting second chance.
Twitter: @andrewunknown and @seeitmarket
Author holds no position in securities mentioned at the time of publication.
Any opinions expressed herein are solely those of the author, and do not in any way represent the views or opinions of any other person or entity.