As the annual market cycle is coming to a close, I have been feverishly working to analyze the upcoming cycle forecasts for key commodities and select asset classes. With this in mind, I thought it would be beneficial to share with you the 2014 market cycle forecasts for many key markets that we all follow.
Cycle Analysis 2.0
With many people emailing me with questions about how to get started in cycle analysis and how to fast track towards methods that actually have value, I think it's probably best to recap some of my prior articles before we get into the 2014 market cycle forecasts.  The goal in mind here is to illuminate some methods and techniques I have found helpful to my research and trading.
How much data to analyze?
I get this question a lot and it is only after hundreds of hours of testing and observing that I narrowed it down. We have found that testing for cycles is incredibly sensitive to the number of data points. Not enough data or too much data can limit usefulness of the dataset, producing conflicting signals and, often times, outright terrible forecasts. My testing has found that around 2000 data points is the sweet spot (+ or – 300 ).
What's the shortest cycle that should be scanned for?
I personally don't pay attention to cycles less than 5 data points on the daily scale.
Longest Cycle?
Since the longest cycle needs to appear about 10-15 times, we need to have enough data to find this cycle. If I scan about 2000 data points and nothing significant pops up, then I add a little more (in about 250 point increments) until I come up with something bearing statistical significance.
What is the maximum number of cycles to analyze in the composite?
Between 10 and 30 is the sweet spot. Now I know that isn't a very narrow window but you have to look at the rankings in terms of what is significant/dominant and choose at your discretion whether or not you want its affect to appear in the composite. Upwards of 50 cycles and the forecast smoothens out and shorter-term turning points are lost.
Some Key ranking tools
Bartels Test
The Bartels Test is crown jewel of cycle analysis. It is the best overall gauge of a cycle's relevance and predictability. It fits a trigonometric curve to each occurrence. The amplitude of the measured cycle is compared to the amplitude expected by chance. This comparison gives a direct means, through normal probability measurements, to arrive at a mathematical measure of genuineness or dependability. The measure of dependability will be highest when there is stability in both amplitude and phase.
2014 Market Cycle Forecasts
Below are the 2014 market cycle forecasts for a few key commodities and select asset classes.  I have provided the core statistics for each cycle composite so those that are so inclined can check my work and compare with there own findings. Remember that "phase" is the first occurrence of the cycle from the starting point which is about 2000 bars previous to the current date.
CRB Index
The CRB seems to be very well behaved in its current state. Regarding its 2014 market cycle forecast, I would expect a major low to occur sometime between now and Feb 2014.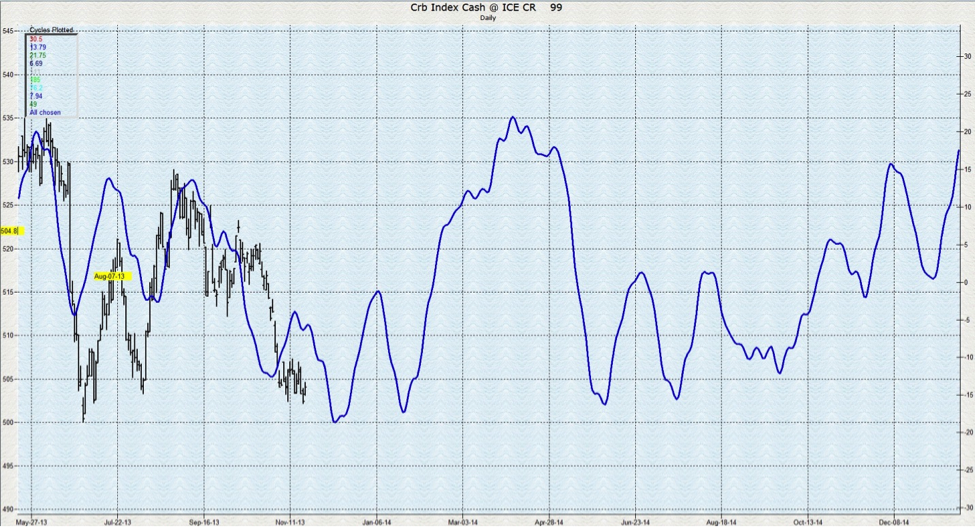 Crude Oil
Crude Oil is a little messy. This could be a case of "sometimes the best trade is no trade" where the forecast is very jumbled and narrow till about March of next year. This is the type of situation where I would decrease my trading in this instrument and wait for better conditions.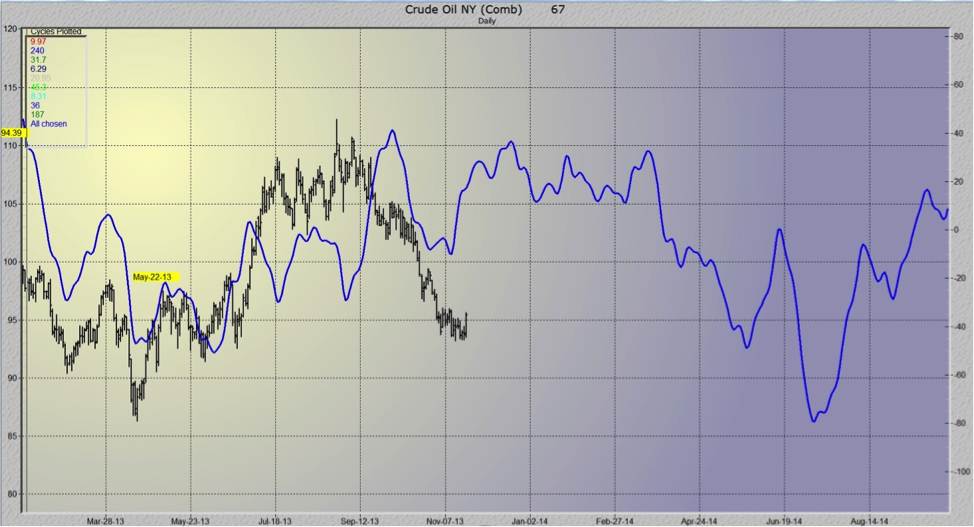 Gold
Clear Inversion is happening in the Gold Futures. I talk about this phenomenon in some of my previous posts where the actual forecast turning points get reversed by the scalar wave action or joint energy output of the waves. I expect gold to follow the reverse of what is plotted into a March High of 2014.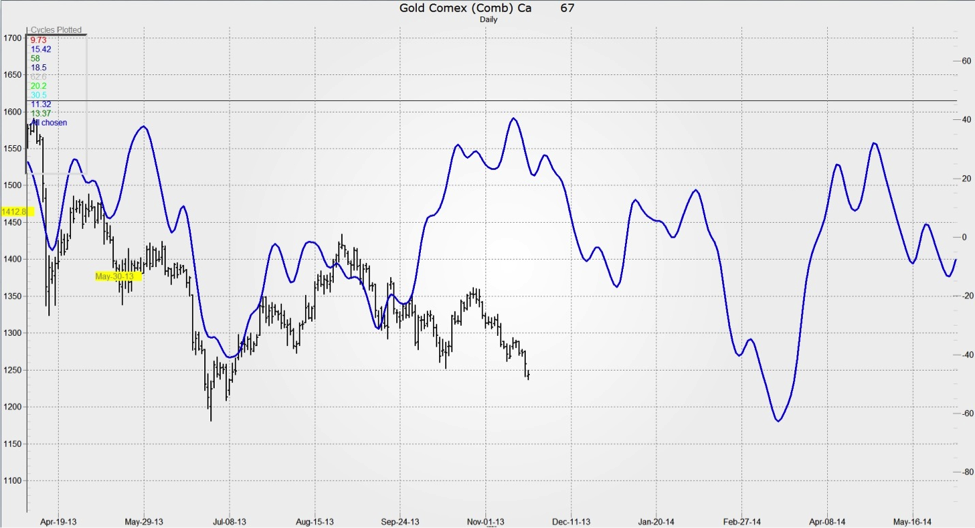 S&P 500 (SPX)
It takes a lot of courage to be a bear up here. With Hugh Henry and David Rosenburg finally turning bullish I will stand fast with my forecast that next year will be a down year and we have seen the best of this bull run till at least 2016.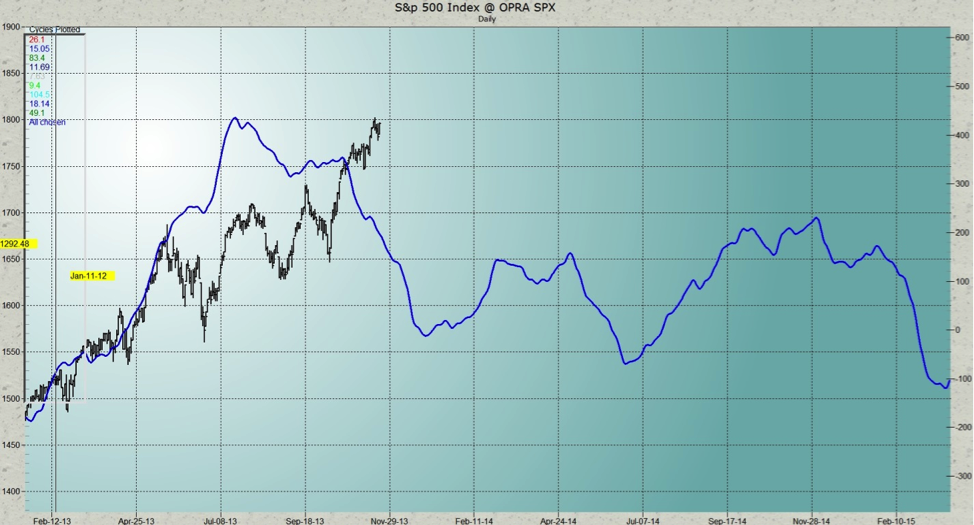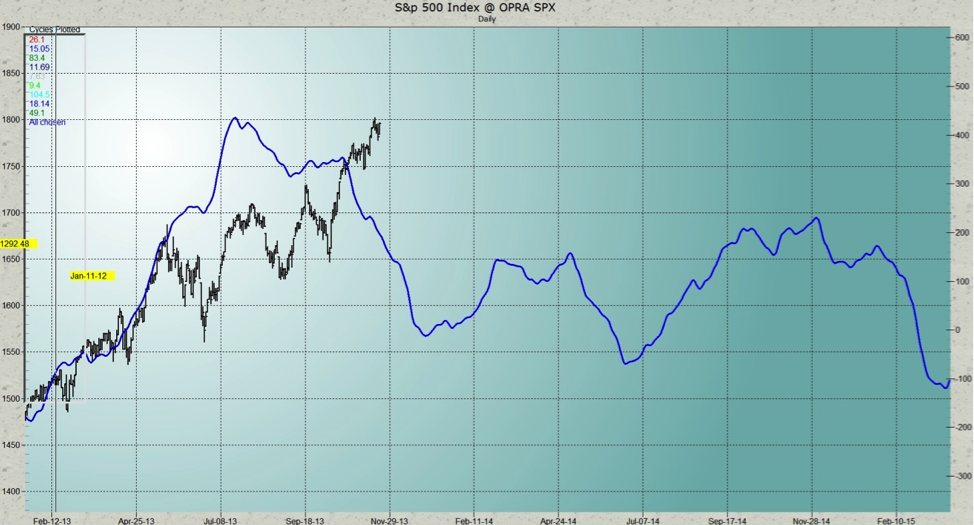 Treasury Bonds
T bonds are looking at a major low in the 2014 market cycle forecast. Expect a primary swing into Mid Summer where a final chance for this generation to get out of bonds could present itself before a massive wave 3 down swing starts.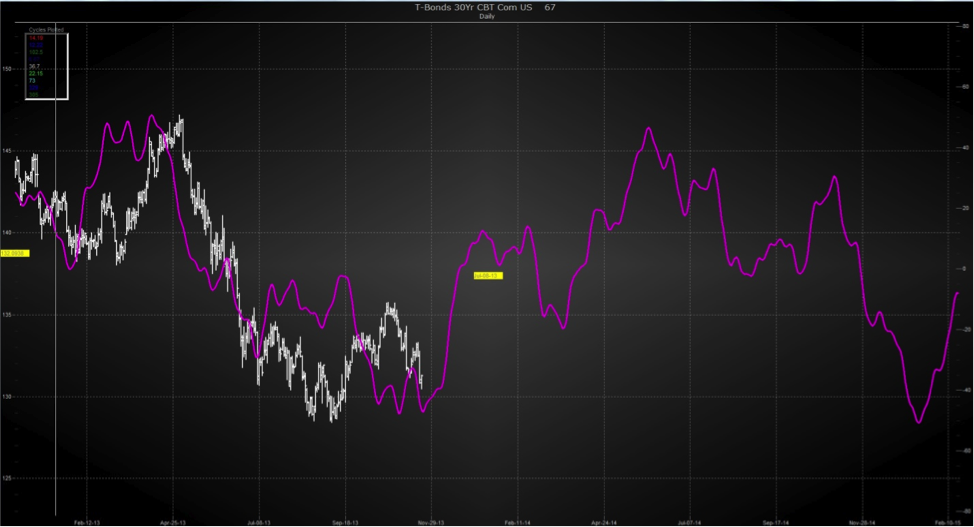 US Dollar
Steady as she goes. Bullish the DXY with key swing turning points in March and Oct 2014.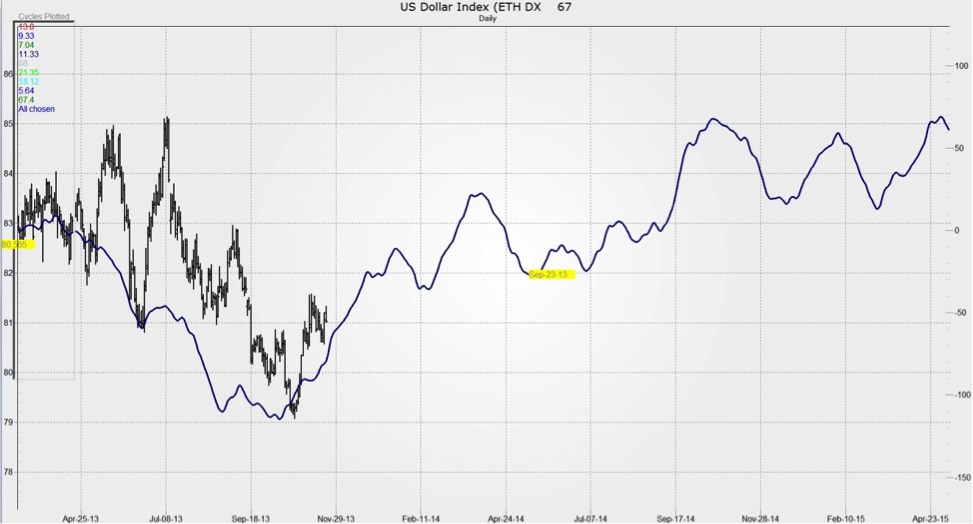 A couple of cycle analysis tools I use are: whentotrade.com & Cycletech Techsignal. Thanks for reading.
Twitter:  @InterestRateArb
No positions in any of the mentioned securities at the time of publication. Any opinions expressed herein are solely those of the author, and do not in any way represent the views or opinions of any other person or entity.