The S&P 500 is trading in No-Man's Land – Insufficient signs of bottoming.
It's still difficult to make too much of the near-term trend for the S&P 500 (NYSEARCA:SPY), as it shed half its gains into the close on Tuesday.  Daily momentum indicators like MACD remain negative, while the pattern for the broad index has still suffered quite a bit of near-term technical damage. See the Triangle pattern breakdown in the chart below.
Market breadth indicators have hardly budged with McClellan's Summation index still sloping downward and hitting the lowest levels since February. As well, the Percentage of Stocks trading over their 50-day MA remains at multi-month lows, with a 10/18 reading below 27%.
The bottom line:  While a mild stabilization seems to have occurred in the last few days, it's certainly not a time to think stocks have yet bottomed out. Moreover, it's difficult to expect stocks should return straight back to highs into the Election given the disgruntlement yet no real fear/capitulation heading into a seasonally volatile last week of October. Until there is evidence of more stabilization and strength with ample upside market breadth, the trend is still DOWN from mid-August/Sept but stable/neutral on a 2-3 day trading basis.
Movement back over 2150 in S&P 500 Dec futures is necessary (at a minimum) to argue for a larger bounce. And on the flip side, a move under 2116.75 at this point (Monday's lows) would be a huge negative. It could open the door for a retest and likely break of the September lows into next week. But for now, it's simply "No-Man's Land" for US Equities.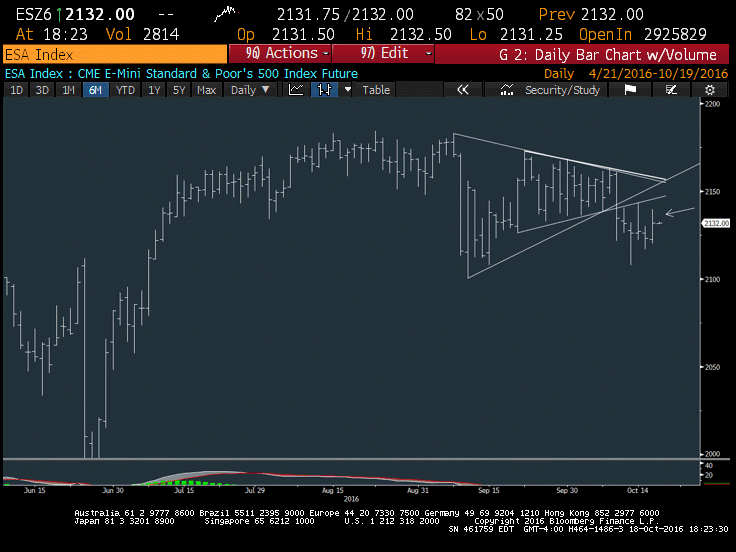 Semiconductor Watch – Intel Corp on watch.
Stocks like IBM (NYSE:IBM) fell hard on Tuesday while others like GOOGL (NASDAQ:GOOGL) broke back out to new high territory.  Others like Intel Corp (NASDAQ:INTC) fell below early October lows as of after-market trading late Tuesday pm (6:00pm EST- 35.75 vs close of $37.75). Failure to recoup $36.46 by end of day Wednesday would suggest a minor top in place for share of Intel Corp (INTC), and could lead to broad-based weakness in Semiconductors overall. Confirmation can also be seen if the Semiconductor Index (SOX) finishes under 790, which would violate the four-month uptrend, suggesting weakness down to 760-5.
Get more trading insights and market analysis over on my blog Newton Advisor.  Thanks for reading.
Twitter:  @MarkNewtonCMT
Any opinions expressed herein are solely those of the author, and do not in any way represent the views or opinions of any other person or entity.