Wix.com Ltd (NASDAQ:WIX) just presented at the Needham Growth Conference in New York City. This conference gives institutional investors, private equity firms, and venture capitalists the access to hear from 330 companies in various growth sectors. I specifically listened to Wix as I continue to enjoy their growth story and have been covering them since they were valued at $580 million, they are now being valued at $2.1 billion.
Wix sent Joe Pollaro, their general manager of US operations. The US makes up roughly 50% of sales for the company, and Joe articulates well. He shared a wide range of facts for observers during his 20-30% presentation, but here are some that really stuck out.
During the presentation we got updated figures which will help us model out the quarter coming up. Most importantly, Wix now has 97m registered users, and 2.3m premium paying subscribers. During his pitch he expressed that their internal data shows that Wix is the fastest growing website builder in the world, and they are doing it with scale. The company now has 417m contact records, 40m user blog posts, 500k appointments booked on their user sites, 55m app installations, 170k invoices have been sent, and users developed 2.5m email campaigns. These are all very different parts of a business, but Joe made sure to highlight how Wix wants to be the main portal for small businesses globally, they call this WixOS. Below is their display on what they mean by WixOS. A fully integrated solution for small businesses.
Note that the slides below are from the Wix presentation at the Needham conference today and are located on Wix investor relations.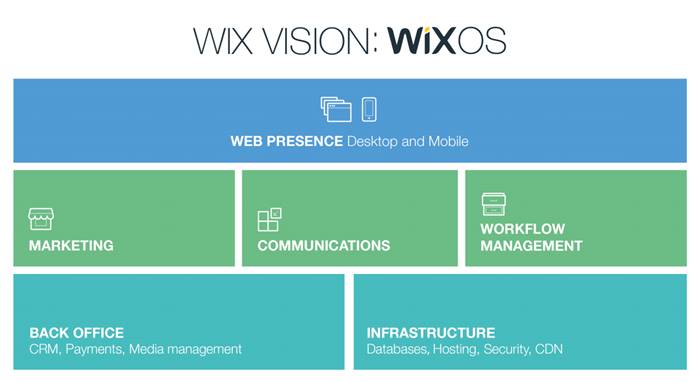 Wix is always looking to fill the needs of small businesses and their WIX ADI is an important example. Joe explained that small business owners typically do not have an eye for design, nor an education in coding. For the last 5-7 years, Wix has been able to provide a code-less solution, but this meant businesses still needed some design skills. This all changed in mid-2016 as they rolled out WIX Artificial Design intelligence or "Wix ADI".
While the creation of Wix ADI is very complex, the users experience for website creation is very easy. Joe mentioned that is now takes 3 minutes on average for someone with no design skills and no coding background to create a UNIQUE website based on the information the user provides. Unique is important as this is not the cookie cutter templates which Wix competitors offer. Once a user develops a site using Wix ADI, they can then move it to the Wix editor, making adjustments as they see fit. Overall this is a big thing for future of Wix, and I have personally tried it myself.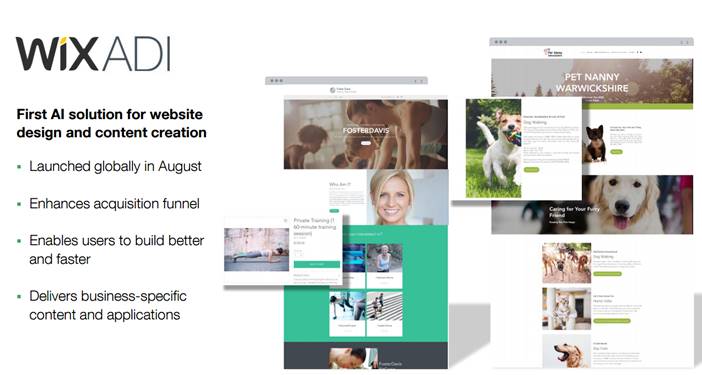 Another important part of the presentation was the discussion of their newest vertical, Wix Video. Wix has a business model surrounded by creating verticals for various business segments. Therefore if you make music, you can purchase the Wix Music solution for your site. Their newest solution is Wix Video. As business and social continue to move towards video, it is important for websites and apps to support this. Wix Video allows for those which have videos as part of their business to either show them on their site, and even sell them. They used the example of a yoga instructor which wants to sell their yoga videos online. Wix now supports the ability to sell these videos, while also providing the back end for payments, billings, and other business functions.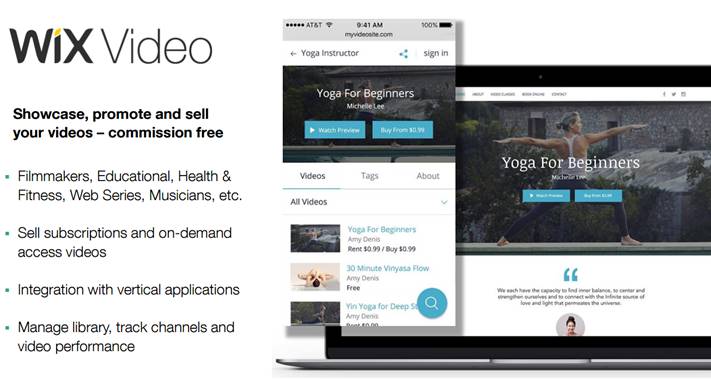 Maybe the biggest news from the event was the integration of Wix and Square. This is important as businesses need the full omni channel solution. This means a business today requires the ability to sell goods on and offline at anytime. This integration does just that and makes sense for both companies.
Given the time constraints we got little financial information, but they did provide us with their target model. Wix now has a target of 86-88% gross margins, and a 30%+ adjusted EBITDA target. Overall, the conference continued to highlights Wix's ability to create and execute on their initiatives.
Thanks for reading.  Note that I own Wix and have owned it since 2014. This is not a recommednation of purchase or sale, and past performance is not guranteed in the future.
Twitter:  @_SeanDavid
Any opinions expressed herein are solely those of the author, and do not in any way represent the views or opinions of any other person or entity.