Back in July I wrote a piece on "Why Bond Yields may be Headed Lower Short-Term" and it has played out just as I suspected. Bond Yields moved towards the top target noted on the chart below, and in my prior post, as the highest level I suspect rates to move in 2013. And sure enough, 2.98 was the high.
From my recent post on bond yields heading lower:
"If we do break above 2.72, I think a move between 2.84-3.02 would put in a new incremental high which I believe will be the top for at least couple of months following a test of those levels."
Okay, so moving forward,  where does the 10 year go from here? I believe that we may be headed much lower; my first downside target is 2.39-2.43 on the 10 year.  I would be shocked if we get back down towards 2.05-2.10 at any point in the near future unless there is some news event that roils the global financial markets.
Let's first take a look at the Commitment of Traders data to see where the major players are positioning themselves in the 10 year treasury market. The Commercial's (Smart Money), continue to buy bonds at a rapid rate relative to the large/small speculators.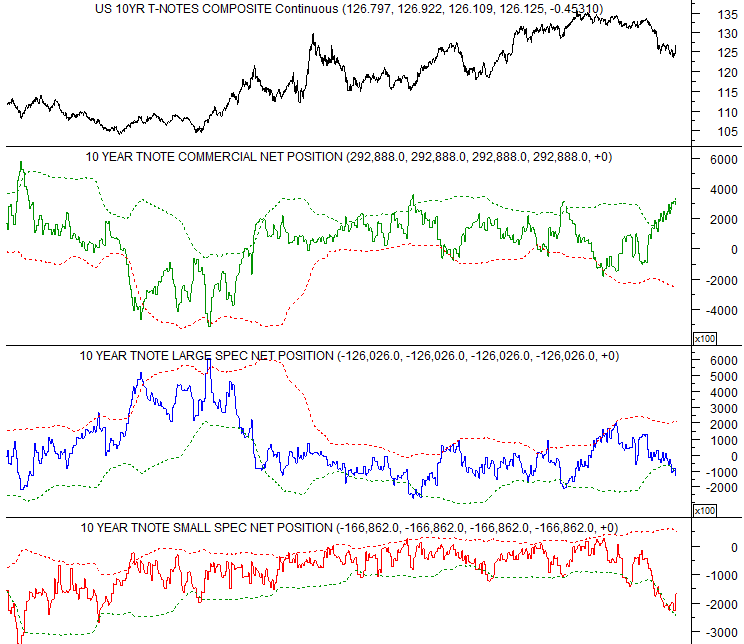 Chart Source: SentimenTrader
Something else to consider is this government shutdown nonsense is coming up and this may be one of the reasons for a bond rally to take place.
Lastly, on a monthly chart, the 6 period monthly RSI is very oversold and at levels we have not seen since 2006 (which was a major bottom).  The monthly candlestick also seems to be forming a major bullish hammer as well. This hints at a rise in bond yields over the near-term.  But we will need to see follow through.
Chart source:  TDAmeritrade
Trade Safe. Korey Bauer
Twitter:  @stockpickexpert
The material provided is for informational and educational purposes only and should not be construed as investment advice. All opinions expressed by the author on this site are subject to change without notice and do not constitute legal, tax or investment advice. At Castle Financial, securities are offered through Cadaret, Grant & Co., Inc. and TD Ameritrade, Inc. Members FINRA/SIPC.
No position in any of the securities mentioned at the time of publication.  Any opinions expressed herein are solely those of the author, and do not in any way represent the views or opinions of any other person or entity.