The stock market rally took a breather last week, with the S&P 500 (NYSEARCA:SPY) closing flat.
We should a bit lower prices this week before buyers come back in.
S&P 500 Cycle Outlook for the Week of July 23, 2018:
The stock market chopped around last week, with the S&P 500 (SPX) up 0.5 points.
Despite Trump's negative media coverage, investors focused on economic fundamentals, which may have offset concerns about the trade war.
Our projection this week is for stocks to decline to 2787 and then resume their move higher. With Investors focused on earnings upside, the market could see some choppiness this week.
Last week began with a meeting and press conference between President Trump and Russian President Vladimir Putin. While this didn't notably move the markets, it did generate a steady stream of negative press coverage.
Sensitive to how he is portrayed, Trump may have wanted to redirect attention when he indicated that he was "ready to go" on his threat to impose tariffs on all Chinese imports, which amount to over $500 billion.
This came after chief economic advisor Larry Kudlow said that he didn't think that China wanted to reach a trade deal. "I do not think President Xi at the moment has any intention of following through on the discussions we made," explained Kudlow.
In fact, in the last 3 months, the Chinese Yuan is down by 8% versus the dollar. This could indicate that the Chinese have already made their next move. Devaluing the yuan effectively lowers the cost of exporting to the US, which would offset the cost of the tariffs.
Yet in his testimony before Congress, Fed Chair Jerome Powell laid the groundwork for an even stronger dollar, which has already risen 2.6% year to date. According to Powell, the economy is performing well, and he expects interest rates to continue to increase.
However, Trump disapproved in a rare Presidential critique of the Federal Reserve, which is considered independent. "The United States should not be penalized because we are doing so well. Tightening now hurts all that we have done," explained Trump via Twitter.
Given that the market moved so little throughout the week, one might ask if traders are no longer focused on Trump's every move. While that is likely an overstatement, traders are apparently now more focused on economic fundamentals, which continue to outperform.
With 17% of the S&P 500 having reported Q2 earnings, an impressive 87% have beat earnings estimates and 77% have beat sales estimates, according to FactSet. Meanwhile, macro fundamentals last week were mostly in line, with two exceptions.
On Wednesday, the Commerce Department released the June results for building permits, which came in at 1.27 million, below expectations of 1.3 million. And on Thursday, the Federal Reserve Bank of Philadelphia released the July results for its manufacturing index, which came to 25.7, above expectations of 21.6.
S&P 500 (SPX) Daily Chart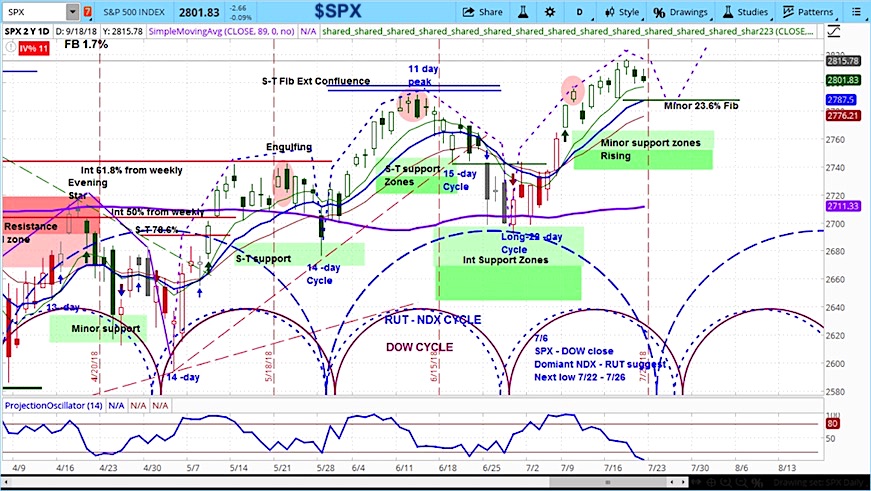 Our approach to trading combines technical analysis with market cycles in an effort to project price action. Our analysis of the S&P 500 (SPX) this week is for a brief correction to the 23% Fibonacci retracement at 2787. After that, we expect the move higher to continue.
For more from Slim, or to learn about cycle analysis, check out the askSlim Market Week show every Friday on our YouTube channel.
Twitter:  @askslim
Any opinions expressed herein are solely those of the author, and do not in any way represent the views or opinions of any other person or entity.