Treasury bond yields are sitting at their lowest levels in years… and in some cases 30 years!
This has investors concerned about the an economy that may be sitting on the precipice of a recession.
The move lower in bond yields (and interest rates) has been a sharp one. So there's reason for investors to be watching bonds closely here.
The 30-Year Treasury Bond Yield INDEXCBOE: TYX is breaking support and trading at 30 year lows!
Meanwhile, the 2, 5, and 10-year treasury bond yields are sitting on important multi-year support at (2) in today's chart. Note that the 10-Year Treasury Bond Yield INDEXCBOE: TNX is closely watched in the mortgage industry.
The odds of a recession increase if the 2, 5, and 10-year bond yields break support. Stay tuned!
30-Year US Treasury Bond Yield Chart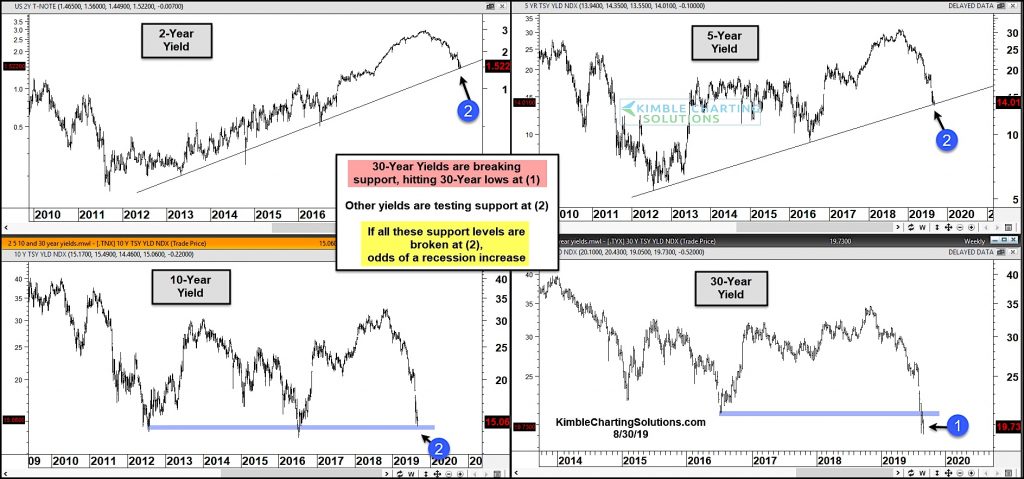 Note that KimbleCharting is offering a 2 week Free trial to See It Market readers. Just send me an email to services@kimblechartingsolutions.com for details to get set up.
Twitter: @KimbleCharting
Any opinions expressed herein are solely those of the author, and do not in any way represent the views or opinions of any other person or entity.