Friday likely started the process of a selloff down to 2800 in S&P 500 (NYSEARCA: SPY)   and down to 7250 on the Nasdaq 100 (NASDAQ: QQQ).
Nasdaq 100:  A move under 7166 would be very negative.
S&P 500:  Near-term 2835 is important.. a move UNDER 2835 allows for weakness to 2828 and under there's not much until 2800 after that. Below 2800 is very negative.
Breadth was not all that negative Friday. 3/2 down. Or about the same as recent rallies have been on the upside.
Key Developments from Friday
1.  Emerging markets breakdown to nearly capitulatory levels in EM currencies and TUR trading off on over 10mm shares within striking distance of 09 lows. Looks overdone near-term
2.  Europe breaking down as per SX5E weakness.  This should continue next week
3.  Treasury yields violating 2.92% on 10yr.  This should allow for yields to pullback to 2.82 initially
4.  Financials down the worst.  -1% and this can continue given the move in yields.
5.  Dollar gains thus far have hurt EM but also have prevented the metals rally.  While extended here. We'll need to see a Dollar reversal quickly and DXY can't afford to get over 96.50
6.  Last but not least.. US Equities finally showing some weakness to multi-day lows-  While a bounce can't' be ruled out.  This should be used to sell early next week and under 2835 should allow for acceleration
S&P 500 Futures Chart (from mid-day Friday… not close at 2839.5)
S&P 500 rolling over –  This should take us eventually down to 2800.  2835 continues to be important support.  A breach will signal continued drop. Looking to sell any afternoon rally into early next week,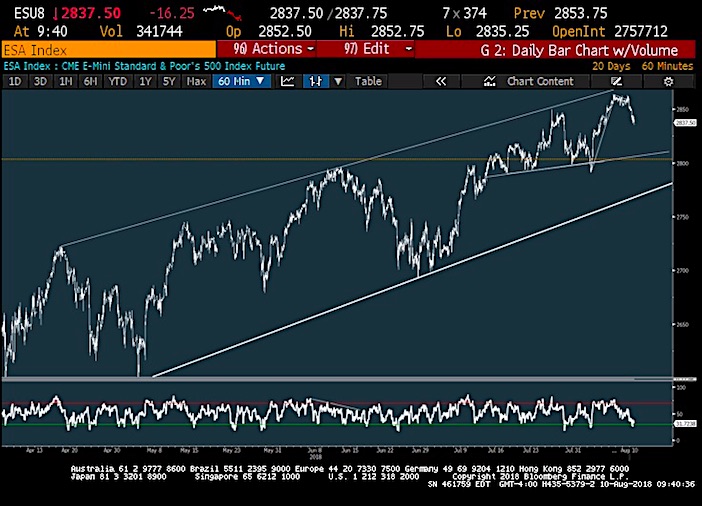 If you have an interest in seeing timely intra-day market updates on my private twitter feed, please follow @NewtonAdvisors.  Also, feel free to send me an email at info@newtonadvisor.com regarding how my Technical work can add alpha to your portfolio management process.
Twitter:  @MarkNewtonCMT
Author has positions in mentioned securities at the time of publication. Any opinions expressed herein are solely those of the author, and do not in any way represent the views or opinions of any other person or entity.