The Nasdaq 100 and large cap technology stocks are coming alive after a brief respite.  This is great news for the broader markets rally prospects into early 2017.
After combing through the technology sector, I pulled out 10 tech stocks that likely have more trading upside.
You'll find the list below, along with my trading targets and stop levels. Note that 5 of the stocks are highlighted below with stock charts.
LONG IDEAS – Select Tech Stocks
Nvidia  (NASDAQ:NVDA)    Long with target near $109-$110.  Buying dips to 96.50-97.50.  A move under 96.50 would suggest this is wrong (stop area).
Apple (NASDAQ:AAPL)   Long with price targets at $118-$118.50. A move over this level would likely lead to 132-1333 near 2015 highs.  A move under 112.45 would be problematic and allow for some near-term consolidation.  For now, I think it's to be long AAPL.
Analog Devices (NASDAQ:ADI)    Long with targets up to $78-$80.  Buying dips to 72-72.25.  Under 70.90 is an initial stop area but 68.41 is a much bigger level.
Broadcom (NASDAQ:AVGO)   Long with targets at $200-  Near-term grinding should be resolved by upside and OVER 183 would be a sign to press-  UNDER 176 is near-term problematic
Texas Instruments (NASDAQ:TXN)    Long with near-term targets $75-$75.50, followed by 79-80 area.  Buying dips to 71.50-.60. But a move down under 69.96 cancels this bullish setup.
Xlinix (NASDAQ:XLNX)   Good buy at $57-$58.50 level with upside targets near 65-66. A move under $55 would postpone the rally.
F5 Networks (NASDAQ:FFIV)   Long, looking to add OVER 2011 highs at $145.76 (this would be a new all-time high).  Long-term bullish reverse head and Shoulders pattern on verge of long-term breakout.
Citrix Systems  (NASDAQ:CTXS)    Long with price target at $103.75.  CTXS set to exceed highs of its 5-year base, and similar to FFIV, made highs in 2011 which are now being exceeded. Bullish structure on monthly charts bodes well for this to move up
Intuit (NASDAQ:INTU)    Long with price targets near $120 and then $125.  Base on top of base from 2015 and chart structure remains quite constructive for a move back to new 2016 highs on a monthly basis.  For now, I'm staying bullish.
NetTap (NASDAQ:NTAP)   Long with targets at $37 initially near last months' highs then 40.84 the 50% retracement of the stock's decline since 2011- Breakout on short term basis as well as exceeding 5 year downtrend, which is a real positive
Some additional color and charts on Nvidia, Apple, Texas Instruments, F5 Networks, and Citrix Systems.  Charts created on Bloomberg Finance.
NVDA – Nvidia
Nvidia breaking out again above prior highs.  While stretched, this will allow this stock to move up to near 109-110 potentially in the short run
This recent consolidation has allowed momentum to settle a bit from overbought in the near-term (Daily) and a very positive formation here with NVDA just exceeding two former highs.
Tight bases like these following advances which are then exceeded typically tend to lead to further upside in the short run.
Additional upside is likely near-term, with any pullback to 96.50-97.50 being an excellent opportunity to buy dips.  Only on movement back under 96.50 would this advance be called into question, and under 87.54 is a time to hedge and/or bet on downside, which for now, looks premature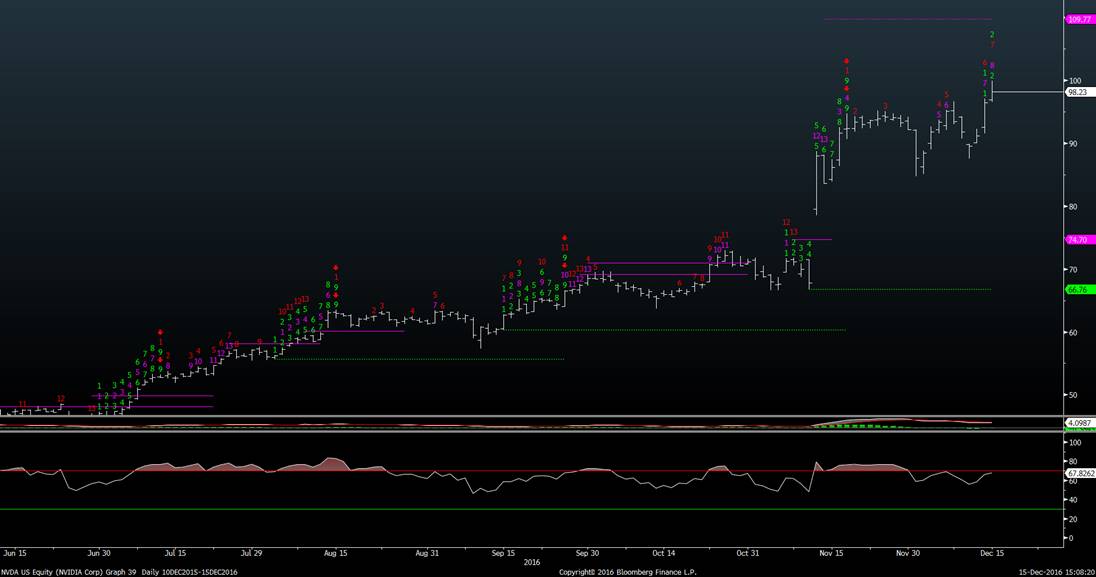 AAPL – Apple
AAPL-  Upside still likely for AAPL up to 118.25-.50 and over opens things up for a move up to 132-  A structurally attractive stock which is growing more bullish and certainly would do so above 118.50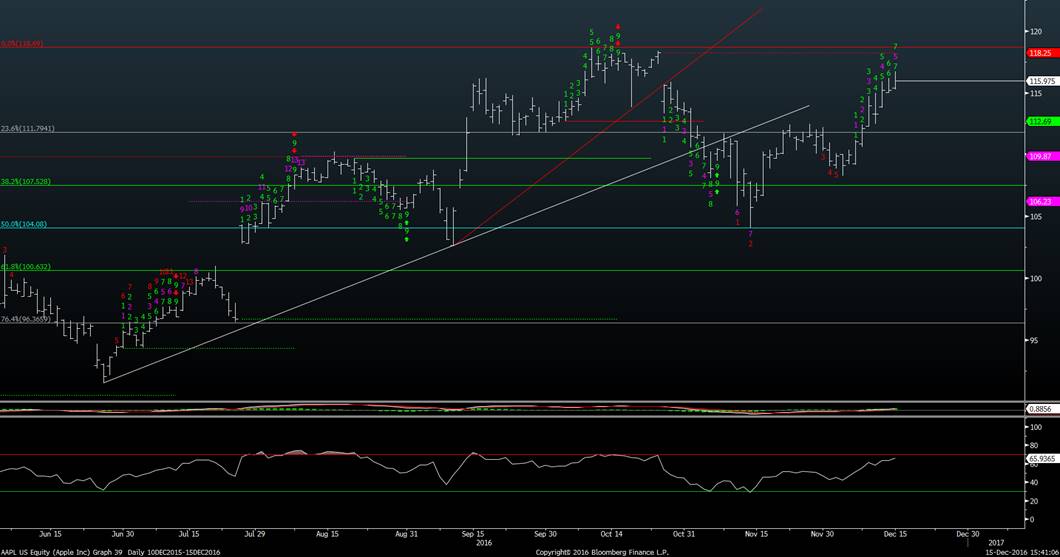 continue reading on the next page…