The following article is a part of my Gone Fishing Newsletter that I provide to fishing club members each week to identify macro inflection points and actionable micro trade set-ups.
Fed – Much To Do About Nothing
The Federal Reserve has spoken (with release of their minutes) and they didn't say much. I will say they were not as dovish as some had hoped – given Fed Funds future bet for two rate hikes this year. In the latest statement that covers their last April meeting, there was no mention of cutting rates or balance sheet adjustment – just of being patient.
Again, I contend Powell has no desire to cut and would raise if he could! I also agree with this sentiment:
Evolving meaning of FedSpeak: Last year, "transitory" weakness in inflation meant delaying rate hike. Today, "transitory weakness" means delaying rate CUT. Trade war should force Fed to cut rates in Q4. – @alaidi
Market Participants are … Bullish
Investors Intelligence Poll is out and those in Neutral camp have started to take a stand: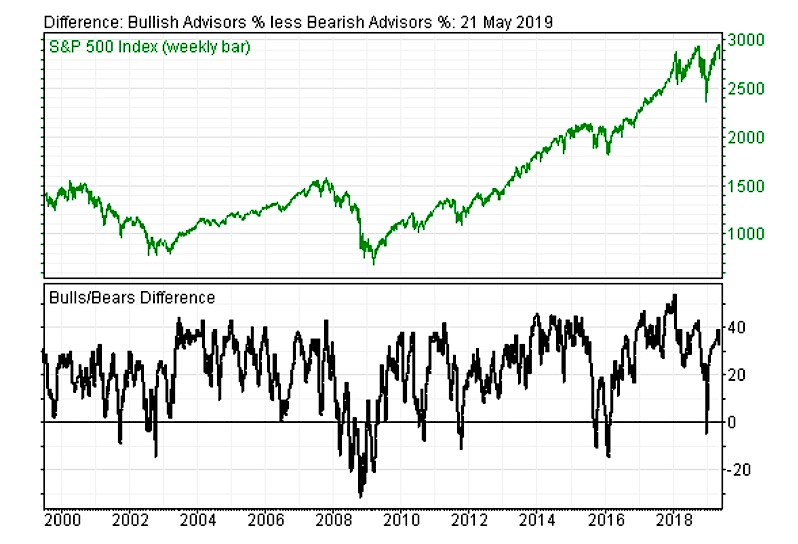 Early each morning, I scan and synthesize market-moving news. I look at macro themes, currency moves and global economic indicators that support or challenge my thinking on the Big Picture and help me take the mood of the market. I like to assemble these data points and turn them into context for my clients. While surveying the market landscape, I am also actively looking for new momentum and value trades for my Live Trading Room and some may even make it into my Live Portfolio, Brokerage-Triggered, Trade Alerts! To catch all the live trading action, join me 9:00am – 12:00pm ET every trading day. I look forward to fishing with you!
Maybe they didn't get these memos:
Infrastructure Bill is DOA
This morning after Pelosi said Trump was "covering-up" in regards to the Mueller case, Trump called an "impromptu" press conference defending his transparency and saying that Congress should pass his trade deal (the new NAFTA one) before doing an Infrastructure deal. So, the $2 trillion infrastructure deal folks got excited about 3 weeks ago is basically dead. Oh yeah, he also wants the Dems to drop the cover-up investigation.
Impeachment or Court Battle
Democrats are faced with a complicated and risky choice: take on the White House in a lengthy court battle or begin an impeachment – Bloomberg
Oil Falls on Supply Worries
Time to start looking at US credit protection, CDX IG, once again as oil is not happy, and credit is full of oil risk….h/t @themarketear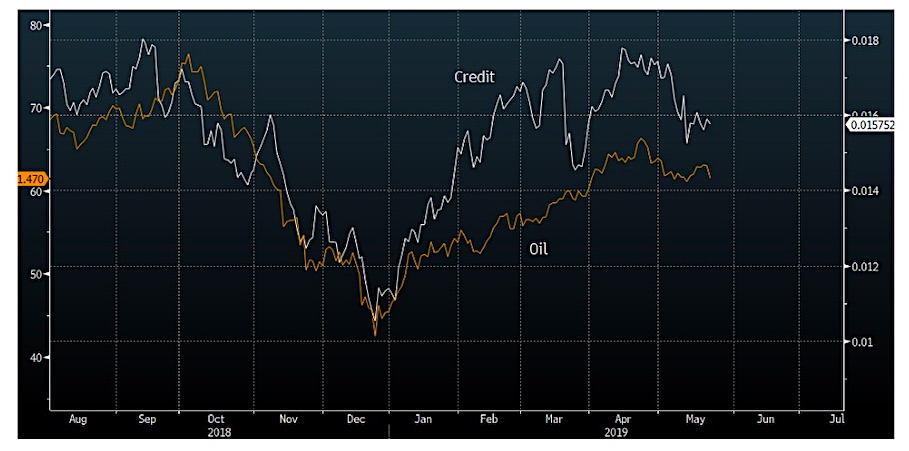 Tariff Tremor
Nearly 200 American footwear companies including Nike (NKE), Fila and Reebok have written to Trump, asking him to take shoes off the China list, saying it would be "catastrophic" for consumers and companies to be hit with the last traunch of tariffs on China imports at the 25% rate. Also affected would be consumer goods such as clothing and accessories and the retail stores that sell them.
Morgan Stanley chimed in:
IF U.S.-CHINA DON'T AGREE TRADE DEAL AND U.S. IMPOSES 25% TARIFFS ON THE REMAINING $300 BILLION OF IMPORTS FROM CHINA, WE SEE THE GLOBAL ECONOMY HEADING TOWARDS RECESSION
Profit and Earnings Recession?
And think about it: the additional tariffs would be AFTER already dismal retail results from Nordstrom, Kohls and Lowe's of late.
In fact, Q1 Earnings are not as rosy as folks think when it comes to profits:
Profits grew just 0.71% in the first quarter based on the 92% of the S&P 500 members that have reported first-quarter results, a rate of increase that doesn't even beat the current low rates of inflation, according to Bianco Research. "This means there is no 'real' growth, so it would be difficult to describe (first quarter) results as great." – Jim Bianco
It's unlikely to get better anytime soon, with estimates calling for earnings growth of just 1.1% this quarter and 1.8% in the third quarter, before miraculously surging 8.1% in the final three months of the year… right before the US-China Trade War really heats up?
So, stocks might be able to avoid the earnings recession predicated by many at the start of the year, but there's still a rising dollar to worry about.
continue reading on the next page…