Every time I entered the elevator in the Orlando hotel, I got to watch Minnie and Mickey separate, only to rejoin moments later.
Of course in Orlando, Disney is EVERYWHERE!
After the announcement of Disney+ yesterday, seems that DIS really is everywhere.
With 10 million sign-ups, which includes a free trial so that number is subject to change in 7 days, the stock traded up to 149.92 or a rise of nearly 8%.
Disney's debt load is high, considering the launch of its streaming service.
But no matter.
Disney typically spends four times as much money repurchasing stock as it does paying out dividends.
So, you may not be able to count on Disney dividends for retirement, but if you bought the stock, you've done pretty well.
Like Minnie and Mickey, is the stock wedded to "Until Death Do We Part?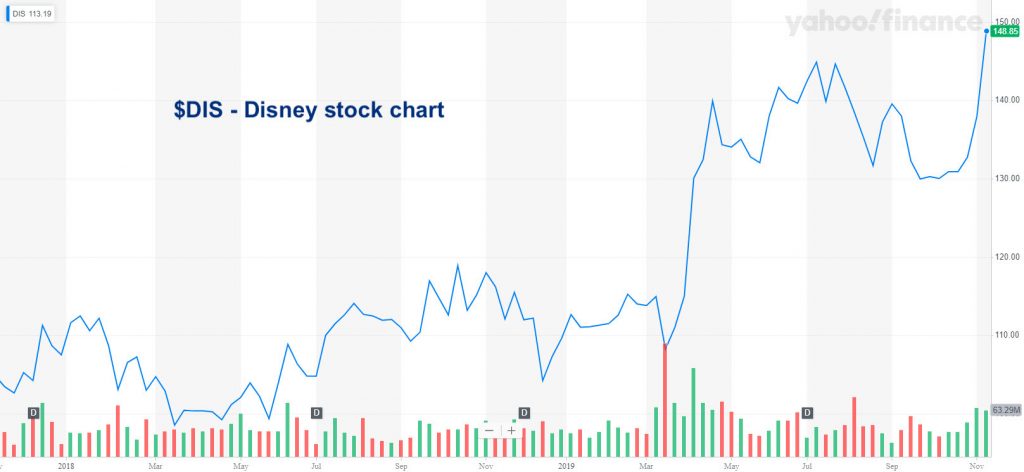 Corporate buybacks have kept the S&P 500, NASDAQ 100 and the Dow firm.
And why not?
Corporations basically borrow money for free. They also benefit from a much lower tax rate.
However, if you are a passive investor, I still say enjoy the ride but caveat emptor-or in other words, have a trade management plan.
Why?
The Russell 2000 IWM and the Transportation IYT sector are not living in the same Wonderful World of Disney!
IWM is teetering on support. It must hold around 158 as we head towards the remainder of the week.
That is the top of a channel IWM broke out from 2 weeks ago.
Plus, as a true measure of the economic health in the US, the disparity between this index and the others is palpable.
When does that come home to roost?
Just ask Heihei the accident-prone, bumbling rooster in Disney's Moana.
Transportation IYT, another reliable measure of the demand of US goods as part of the economy, also needs to hold around current levels.
Unless goods are traveling by magic carpets as in another Disney classic-Aladdin, that too could spell trouble.
In the words of Walt Disney, "I only hope that we never lose sight of one thing — that it was all started by a mouse."
Check out my interview with Jason Hartman published in Authority Magazine November 13, 2019 https://medium.com/authority-magazine/the-5-essentials-for-smart-investing-with-michele-mish-schneider-and-jason-hartman-281817417198
S&P 500 (SPY) 307.50 support. All-time high 309.99. 
Russell 2000 (IWM) 155-156 Key support 158 pivotal 160.46 resistance.
Dow (DIA) Made a new all-time high at 278.40. 275.50 now nearest support.
Nasdaq (QQQ) All-time highs at 202.21. 200.20 support.
KRE (Regional Banks) 55.74 July high now pivotal support 57.52 next resistance.
SMH (Semiconductors) 134.28 all-time high. Breakaway gap intact if holds 130.
IYT (Transportation) 195 pivotal 194 some support and must clear 200.42
IBB (Biotechnology) 109.45 nearest support.
XRT (Retail) 43.92 now the pivotal support. 45.68 resistance.
Twitter: @marketminute
The author may have a position in the mentioned securities at the time of publication. Any opinions expressed herein are solely those of the author, and do not in any way represent the views or opinions of any other person or entity.