The S&P 500 Index (INDEXSP: .INX) continues to show strong bullish intermediate posture (green line) with rising long-term Market Sentiment.
This is a bullish combination – especially when combined with a rising six-week moving average.
Short-term sentiment started to bounce out of strong oversold conditions. The near-term line (blue line) for the Dow and NASDAQ Composite (INDEXNASDAQ: .IXIC) weren't nearly as bearish.
The Russell 2000 continues to trade in a tight sideways channel and shows a weak bearish posture with its intermediate line (dropping) below the 80th percentile. This is not enough of a bearish posture to suggest a trend change.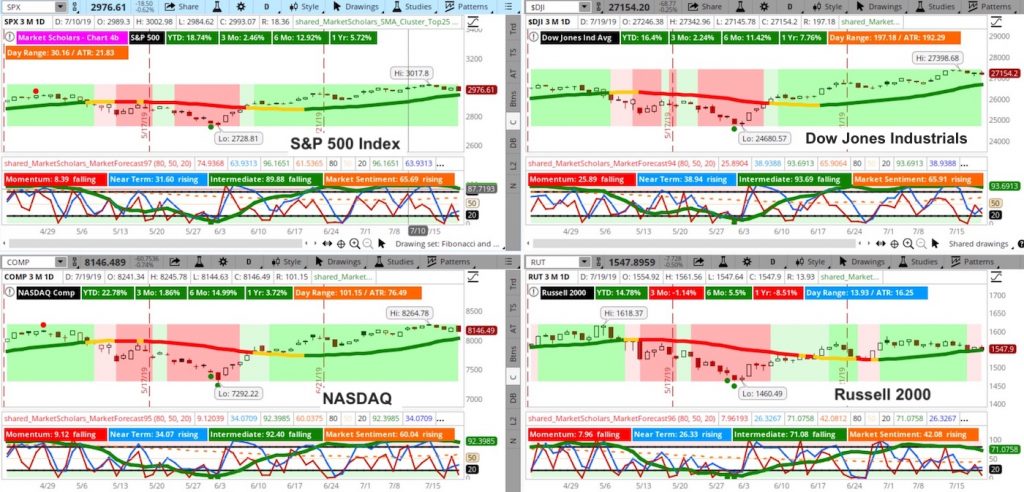 According to seasonality, stocks will struggle to make any headway until volatility hits in September/October. Last year, stocks still rose post-July expiration but ranges and volume were miniscule.
This week's Heikin Ashi candle remains bullish but depending on how the S&P closes this week, there's a good likelihood that next week's candle is a transition candle that may lead to at least a weak intermediate (green line) pullback.
Unlike other times when the intermediate run peaks, the S&P 500 is not trading outside its first standard deviation channel of its linear regression trendline. Also, the trendline is not sloping at a strong bullish level either that would suggest the long-term trend may also stall.
The S&P 500 is sitting above the value area on its Volume Profile and is currently pulling back towards it. This can act as a support level.
Stock Market Video – Forecasting the Week Ahead (July 22)
Get market insights, stock trading ideas, and educational instruction over at the Market Scholars website.
Summary Analysis: The posture remains strongly bullish even with strong bearish short-term sentiment this week.
Markets are focused on earnings season and the upcoming FOMC meeting. Expectations for a 50bps cut spiked this week before falling back down. The technical outlook suggests stocks may continue to grind higher during the summer trading season. Short-term runs will most likely be more frequent and won't last as long as normal.
Expect short periods of weak intermediate trends, like the current posture on the Russell. It most likely won't lead to a strong intermediate pullback like we last saw in May, but more similar to pullbacks in early and late March.
Twitter: @davidsettle42 and @Market_Scholars
Any opinions expressed herein are solely those of the author, and do not in any way represent the views or opinions of any other person or entity.