The S&P Industrials Sector (NYSEARCA:XLI) is trying to breakout based largely on CSX Corp's (NASDAQ:CSX) gap higher, but other stocks like Norfolk Southern (NYSE:NSC), Union Pacific (NYSE:UNP), Alaska Airlines (NYSE:ALK) and Emerson Electric Co (NYSE:EMR) all higher today as well.
One thing to note, however, is that daily charts now show the presence of TD Sequential sell signals, a counter-trend signal that historically, when confirmed, could signal a reversal in the near future. So these are short-term trades.
For now, the chart patterns improvement means more near-term as they have NOT been confirmed. –  Movement up near 560 looks likely.
Further below, I highlight a few names I like for near-term trades.
S&P Industrials Chart (daily)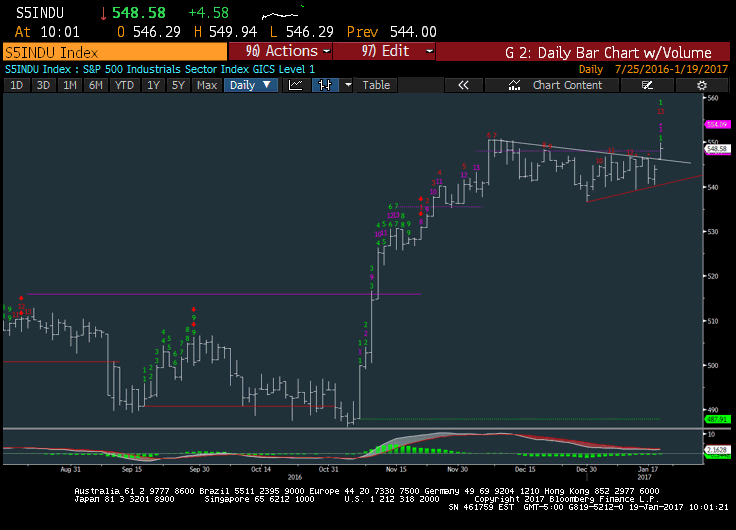 S&P Industrials "Weekly" Chart View
Ongoing consolidation from the last few weeks now seems to be giving way to upside with this weeks move back to new multi-week highs.
TD Sequential sells are present and have been confirmed, however the TD COMBO is on bar 12.  In my experience, when counts are close like this, getting BOTH to line up and also to be confirmed is key.  So a move back OVER last Dec highs is probable, which would then cause the Combo to line up.
Bottom line.. today and this weeks move is still constructive and movement up to 563-5 looks likely.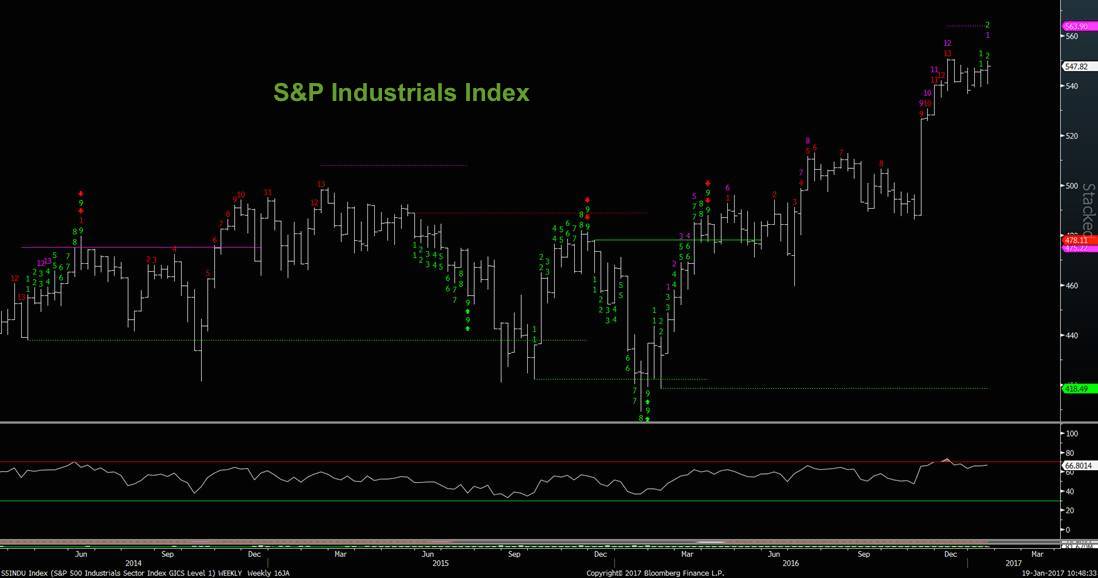 My Favorite Industrials Sector : "short-term" trading longs to consider are:
Emerson Electric Co (NYSE:EMR):  Target 65
Flowserve Corp (NYSE:FLS):  Target 52.50, 55
Fastenal Company (NASDAQ:FAST):  Target 55-  buy any and all pullbacks  down to 48.50
Alaska Airlines (NYSE:ALK):  94.4 to 97.5 only – Look to sell within 2-3 weeks on further gains
Union Pacific (NYSE:UNP):  Target up to 110
Fortune Brands Home & Security (NYSE:FBHS):  counter-trend play but should bound to 57-57.50 and potentially 58.50-
United Rentals (NYSE:URI):  Target 120
Norfolk Southern (NYSE:NSC):  114.28 up to 117.50
CHART SPOTLIGHT:  Emerson Electric Co (EMR)
Here's a great candidate to play catch up. A breakout today/this week while still well off all-time highs from 2014-  rallies up the the mid-60s look likely.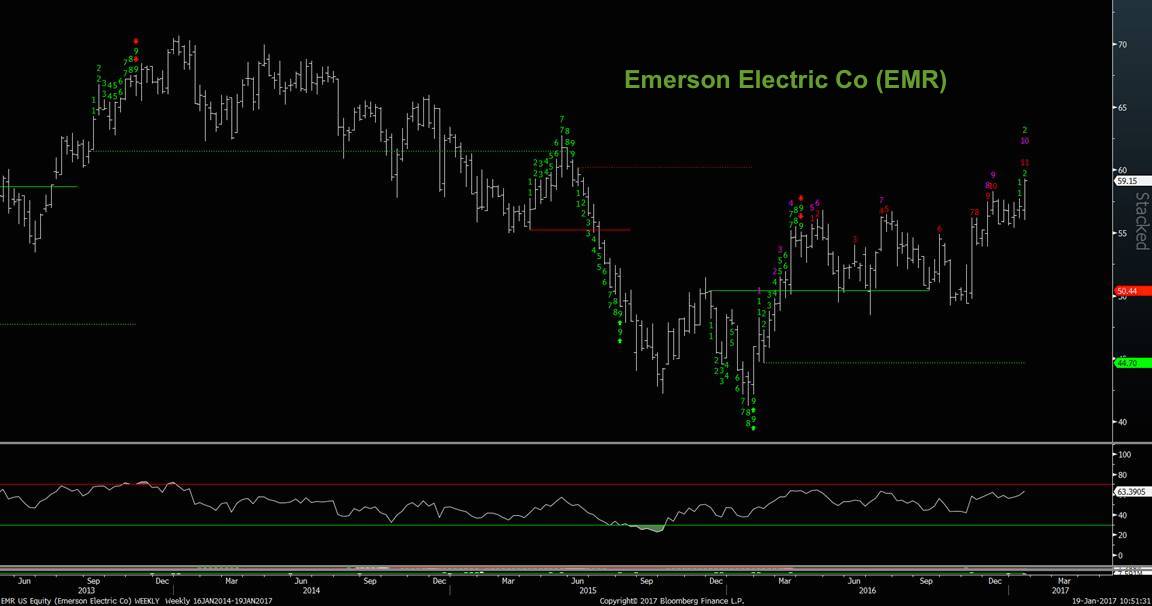 Thanks for reading.
Note that you can catch more trading ideas and market insights over at Newton Advisor.  Thanks for reading.
Twitter:  @MarkNewtonCMT
Any opinions expressed herein are solely those of the author, and do not in any way represent the views or opinions of any other person or entity.