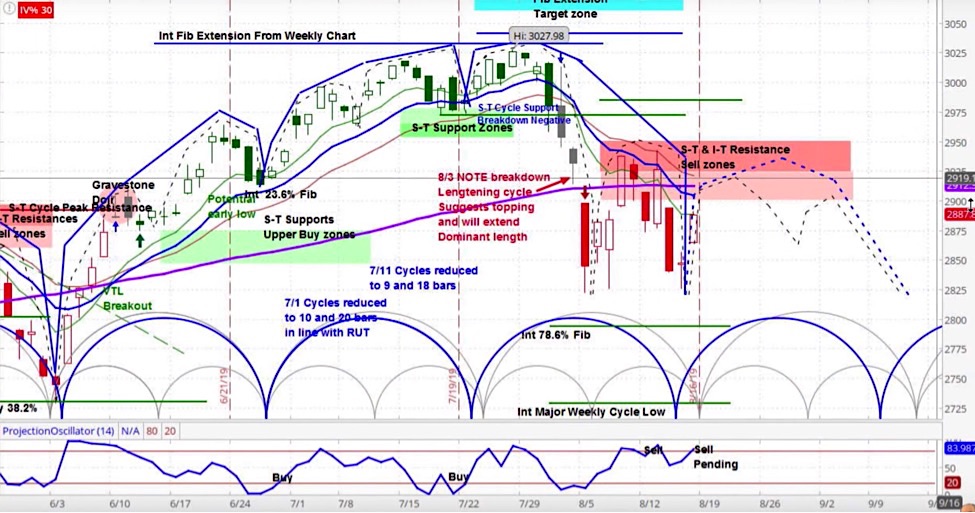 S&P 500 Index INDEXSP: .INX Daily Chart
After stocks slip, market cycles suggest a blip higher
The stock market lost ground again last week, as participants drove volatile swings in the market. The S&P 500 Index fell 30 points to 2889, a decrease of 1%.
Based on near term market cycles, our projection is for another choppy week that temporarily moves higher, as I pointed out in the latest Market Week show.
Let's discuss the S&P 500 cycles chart (see above).
Our approach to technical analysis uses market cycles to project price action.
Our analysis is that the S&P 500 has now begun the rising phase of its current cycle. As it just started, we see further upside potential, with a resistance zone at 2925-2950. For this week, we are projecting a choppy week that ultimately moves modestly higher.
This Week's Stock Market Video – August 19
Several factors drove last week's choppy price action. First, the yield for the two year treasury notes rose above that of the 10-year notes, a recession indicator. As well, political waves continued to rise in Hong Kong and Argentina. And finally President Trump eased off on his threat to impose tariffs on consumer electronics imported from China.
For a more detailed analysis of both of these charts, check out the latest episode of the askSlim Market Week show.
Twitter: @askslim
Any opinions expressed herein are solely those of the author, and do not in any way represent the views or opinions of any other person or entity.