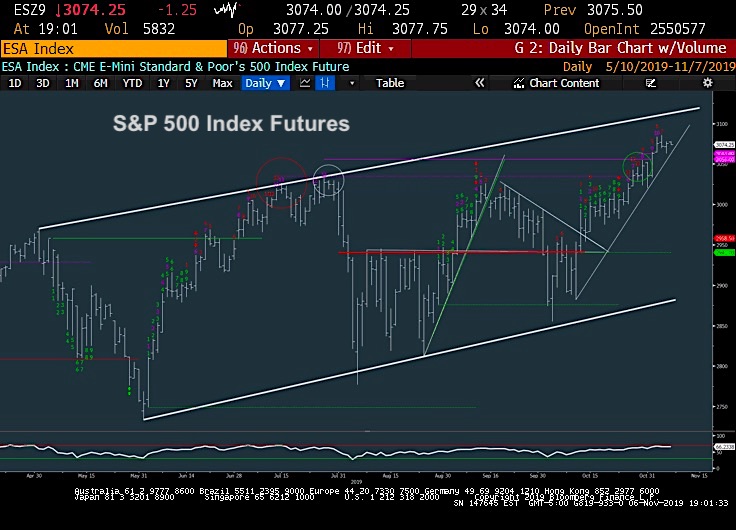 S&P 500 Index Futures Trading Chart – SP 500 Index INDEXSP: .INX
S&P 500 Trading Outlook (3-5 Days): Expect Stallout & minor reversal
November 7 and 8 look important heading into November 14. A 200 point rally in 24 days has left the S&P 500 overbought and showing some evidence of tiring.
I think it's time to sell rallies into further near-term strength.
The S&P 500 Index has stalled now for the last two days, yet has not yet broken the trend from early October. This is a sign of resiliency… but for how long?
The first real break would come on violation below Tuesday's lows, while the more significant area lies down at 3027.
Overall, the last couple days of stalling do not point to immediate decline, and as such, despite the churning, gains are possible back to new highs. However, i suspect that market breadth will continue to be sub-par and should offer a chance to sell into any gains by end of week.
If you have an interest in seeing timely intra-day market updates on my private twitter feed, please follow @NewtonAdvisors. Also, feel free to send me an email at info@newtonadvisor.com regarding how my Technical work can add alpha to your portfolio management process.
Twitter: @MarkNewtonCMT
Author has positions in mentioned securities at the time of publication. Any opinions expressed herein are solely those of the author, and do not in any way represent the views or opinions of any other person or entity.