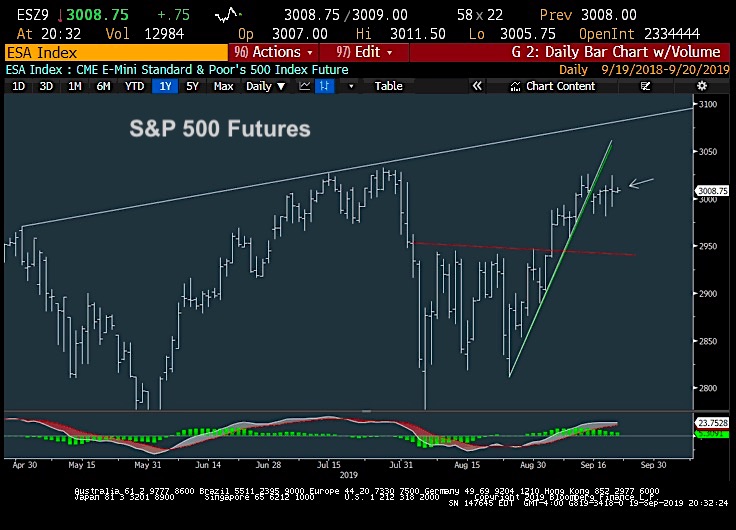 S&P 500 Index Trading Outlook (3-5 Days): Bullish
Late day weakness has failed to take away from the bullish tone of recent days. Expect strength to 3027 and above that to 3050-75 into end of September/early October before any stallout.
The S&P 500 is still showing very good resilience with sideways prices into and post FOMC after this uptrend, with Healthcare and Financials starting to show more evidence of strength.
Overall, this is positive for markets at a time when price has largely gone nowhere in recent days. SPX had a definite chance to turn down post FOMC meeting, and failed to do so.
Thus, the act of holding up is seen as a definite positive, technically speaking, and could lead prices up to 3050-75. Getting up above recent late July highs at 3027 is the first step in this process, while under 2983 would postpone this move.
Market Commentary and Insights
Markets backed off late in the day, though the "doji" in US equities.. (Unchanged prices as part of a big daily range) doesn't really detract from the current trend. It's thought that S&P needs to undercut 2983 to have any real chance for a late September pullback.
While October is quite negative sentiment wise, the last few days progress in rallying well up off the lows along with Financials showing strength and stocks like JPM, AAPL and MSFT all showing good strength are thought to be positives that likely mean that any minor backing off proves early for now.. and that pullbacks are premature. Movement up to 3027 looks more likely than a decline for now, and above 3027 can allow for 3050-75 to be achieved.
As for sector analysis, Healthcare was very much in focus yesterday, so the act of this group outperforming Thursday while Financials did well Wednesday is a net win for markets this week. While Tech has waned a bit, it hasn't weakened dramatically enough to call for an end to this move.
The S&P 500 weakened into Thursday's close, but it wasn't sufficient to call for any sort of larger selloff. Equities have been largely range-bound over the last few days, though the Financial, Healthcare moves look important and positive. This recent consolidation makes some Sector study necessary to have a real feel on net direction.
Near-term, it's thought that a continually rising Equity Put/call ratio coupled with Financials and Healthcare acting well is a positive for markets, as both of these groups have been laggards in recent months.
If you have an interest in seeing timely intra-day market updates on my private twitter feed, please follow @NewtonAdvisors. Also, feel free to send me an email at info@newtonadvisor.com regarding how my Technical work can add alpha to your portfolio management process.
Twitter: @MarkNewtonCMT
Author has positions in mentioned securities at the time of publication. Any opinions expressed herein are solely those of the author, and do not in any way represent the views or opinions of any other person or entity.