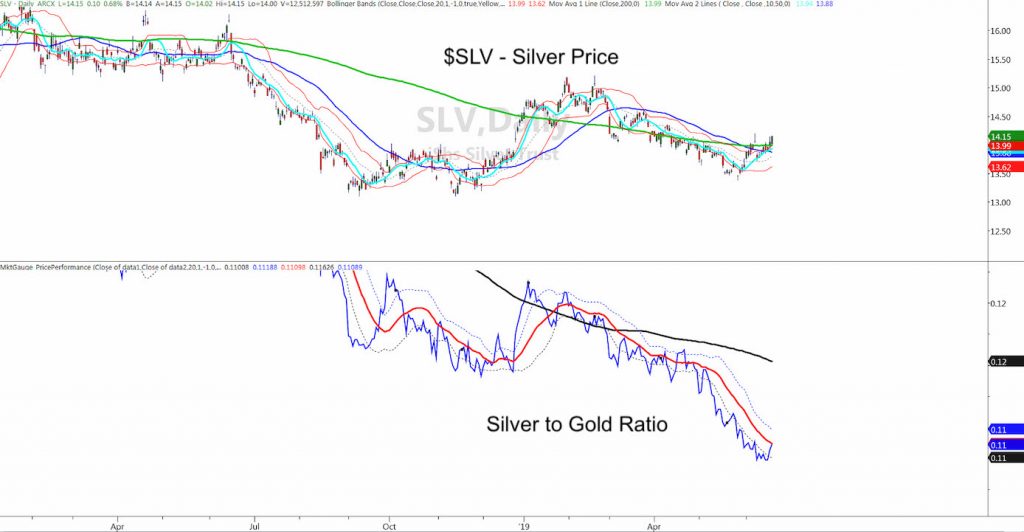 Recently, I posted this exact same chart, highlighting the price of Silver (NYSEARCA: SLV) to price of Gold (NYSEARCA: GLD) ratio.
At the time, the Silver to Gold ratio did not look ready to do much.
Since then, and with the help of lower global interest rates, the chart looks a bit different.
Are we getting ready to experience a sea change? For precious metals and inflation?
The top chart is silver.
If the price of silver remains above 14.05, that could be a sign for the ratio to finally flip.
The bottom chart shows the moving averages and Bollinger bands.
The red line is the 20-day moving average.
Should the Silver to Gold ratio levels clear that area, I would expect to see silver to play some serious catch up.
Furthermore, with the prospect of the Federal Reserve lowering interest rates later this year, we could see inflation indicators also flip.
Plus, the dollar traded lower and with the weather conditions on crops dicey, inflation could go beyond what anybody wants to see.
Finally, with any trade settlement in China, I would certainly expect this ratio to continue to favor silver and other commodities as well.
I suspect that equities will get an initial boost, but could easily peak out and turn lower.
Stay tuned.
"Plant Your Money Tree: A Guide to Growing Your Wealth" BookAuthority's Best New Wealth Books:
https://bookauthority.org/books/new-wealth-books?t=ipp94p&s=award&book=153812257X
The book is available for purchase on Amazon.
S&P 500 (SPY) – 290 now the support to hold. 294.95 the all-time high.
Russell 2000 (IWM) – 152.75-153.35 now pivotal support. Really must clear 155.20.
Dow (DIA) – 262.87 now support. 269.28 all-time high.
Nasdaq (QQQ) – 183.60 the 50-DMA support. 191.32 all-time high.
KRE (Regional Banks) – 51.40 support. Overhead resistance at 53.50
SMH (Semiconductors) – 105.50 now pivotal support. 108.75 the 50-DMA resistance.
IYT (Transportation) – Still not drinking the Kool-Aid. Must clear 190 to look good. 185.50 pivotal. 183.50 support to hold.
IBB (Biotechnology) – 105.60 is the 50-DMA support. Stopped right at resistance at 108.60
XRT (Retail) – 42.45 pivotal, 41 pivotal and 40.00 big support.
Twitter: @marketminute
The author may have a position in the mentioned securities at the time of publication. Any opinions expressed herein are solely those of the author, and do not in any way represent the views or opinions of any other person or entity.