The S&P 500 closed Monday at 2021.15 and needs to get over 2058.90 to finish green for the year. This comes out to a 1.87% gain is needed to finish green. Yes, this is just price, not total return (so no dividends). If you include dividends, the S&P 500 total return is 0.14% YTD currently.
So can the S&P 500 gain more than 1.87% the final seven days to finish higher? Going back 87 years, it has gained this amount the final seven days 23 times or about 26% of the time.
This late year rally is widely known as the Santa rally and it is the last five days of the year and first two days of the next year.
Here's what the average December looks like the past 20 years. Somewhat surprising that as of the 15th of the month the return is actually negative. It isn't until later in the month that the buyers really step in.
December Seasonality S&P 500 Chart
Here are the only times the final seven days of the year gained more than 3%.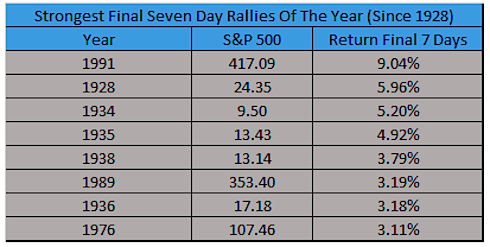 Incredibly, the final seven days of the year have dropped more than 1% only four times out of the past 87 years. That pretty much sums it up, late in the year is usually strong, but more than anything it is rarely lower.

Here are all the returns for the rest of the year for all years since 1928 for the final seven trading days of the year. Up 78% of the time, with a median return of about 1% is pretty impressive.

The bottom line is after the rough start to December, many stopped believing in Santa. I've said all month that the Santa rally starts later in the month, but for some reason most think the Santa rally comes right after Thanksgiving anymore. Could once everyone stops believing be what is needed to spark the Santa rally and keep it going?  That would be a good way to end 2015 and I think it is very possible.
Twitter: @RyanDetrick
Any opinions expressed herein are solely those of the author, and do not in any way represent the views or opinions of any other person or entity.