Needless to say, I was pretty darn excited about appearing on Bloomberg TV!
Ahead of the interview, they sent me a list of potential topics for me to respond to.
Unfortunately, we ran out of time before covering all topics. Since the topics are timely and hopefully relevant, I thought I'd share them with you.
We begin with:
Global/U.S. markets outlook:
The Economic Modern Family shows the "inside" of the market-transportation, small caps and retail-especially brick and mortar.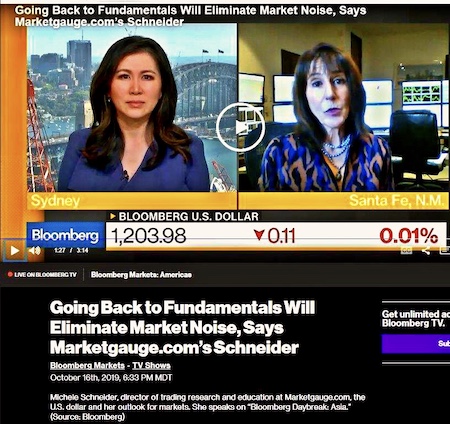 They are in much worse shape than technology stocks and some of the FAANG stocks such as Google, Apple, and Facebook.
This is disconcerting because it shows that the market is much weaker than what semi's and Nasdaq or even the Dow Jones Industrial Average NYSEARCA: DIA indicates.
Technology stocks are carrying the weight, and that is the ultimate cyclical sector-which for now is ok-but with any signs of recession will drop hard.
For example, in October 2018 the S&P 500 ETF NYSEARCA: SPY went to new highs as the Russell 2000 ETF NYSEARCA: IWM or the Russell's was already beginning to sell off.
Now, the small caps and those 2 sectors must at least hold up and at best catch up in order to paint a much more bullish picture.
The small caps are flirting with the 50-week moving average. (They closed above the 50-WMA).
The weekly momentum (measured over a 4-year period) in all 4 indices has been waning, led by the weakness in Russell 2000 (IWM).
On the Daily charts, the momentum is beginning to improve considering 3 of the 4 indices are in bullish phases.
So shorter-term we could still get a pop-and then it will depend on the IWM IYT and XRT's performance and whether they can continue to improve.
In general, the market is in a huge trading range, i.e. S&P 500 (SPY) range is 285-303. Until that reconciles, choppy and volatile conditions will persist.
What are your top 3 convictions on the markets?
Do I have any specific stock recommendations?
After earnings looking at CPRI reports 11/6 (Versace, Jimmy Choo, Michael Kors) before the open, a retail stock. BYND reports 10/28 (a megatrend that will continue), DDD reports 10/30, Advanced Micro Devices AMD reports 10/29. The list of specific stock picks I recommend could increase if the weaker sectors hold up.
What are the market's biggest risks?
What are the stocks she has been watching?
These are my longer-term picks and perhaps a bit contrarian-yet they represent emerging megatrends.
3D printing stocks especially 3-D systems.
The whole undervalued cannabis space.
Viavi (reports 10/30) big in 5G technology.
But mainly watching commodities-specifically the gold, silver, grains and softs-also the commodity indices like DBA USCI and GSG with an oil component in that.
Any contrarian views/ anything missing?
The biggest contrarian view might be about commodities and inflation-the Fed has mentioned many times that inflation is not at their target-I say-be careful what you wish for.
To see part of the interview they did do, click here. 
S&P 500 (SPY) 296 pivotal support. 300 pivotal resistance to clear
Russell 2000 (IWM) 152.25 the 200 DMA. 153.50 must clear/hold.
Dow Jones Industrial Average (DIA) 270 now pivotal resistance.
Nasdaq (QQQ) 193.30 first pivotal resistance. 194.71 higher resistance. 190.45 key support.
KRE (Regional Banks) 53.65 resistance to clear and 52.80 pivotal support.
SMH (Semiconductors) Digesting which is fine. Needs to hold 121.00
IYT (Transportation) Inside day. 185-190 range to clear.
IBB (Biotechnology) 102.50 important pivotal point. 105 resistance.
XRT (Retail) 43-44 huge resistance. 41.50 support.
Twitter: @marketminute
The author may have a position in the mentioned securities at the time of publication. Any opinions expressed herein are solely those of the author, and do not in any way represent the views or opinions of any other person or entity.