Here's a quick update on the Ipsos Consumer Sentiment Indexes through August.
The main high-level takeaways were that the composite Emerging Markets (EM) index rebounded from the fall in July (this is after a decent cyclical upturn since the bottom in February 2016). China, India, and Mexico were the main drivers. The Developed Markets (DM) index on the other hand fell slightly, again, after also dropping in July.
Thus at a global level of the composite index looks to be on shaky ground. The trouble with this is that the global composite consumer sentiment index tends to travel relatively closely with the MSCI ACWI (All Countries World Index – NASDAQ:ACWI).  So maybe the North Korean crisis is just the excuse that global equity markets were looking for to undertake an arguably overdue correction.
The EM composite consumer sentiment index rebounded slightly in August, while the DM composite declined for a second month.  The Two had undergone a synchronized upturn in 2016.
Ipsos Consumer Sentiment – Developed Economies vs Emerging Markets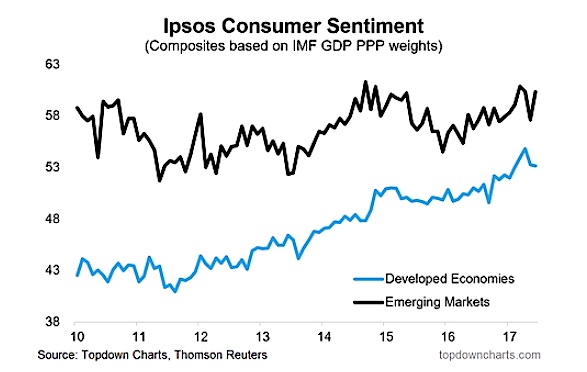 At a global level, the index remains visibly off the highs, and this could be a signal that global equities were overdue for a correction, despite the geopolitical risk noise in the headlines.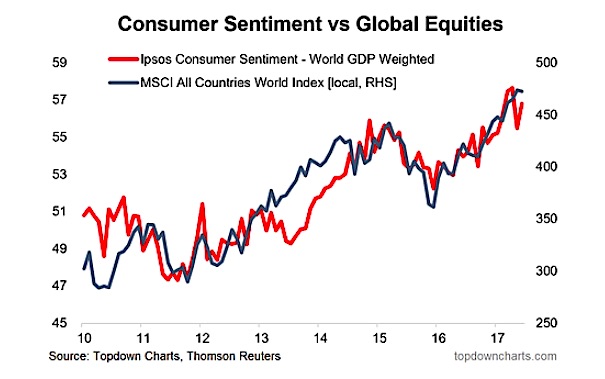 For more of my macro analysis, visit Top Down Charts.  Thanks for reading.
Twitter:  @Callum_Thomas
Any opinions expressed herein are solely those of the author, and do not in any way represent the views or opinions of any other person or entity.