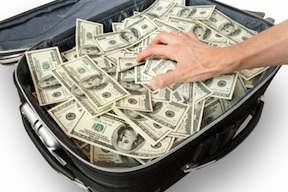 Throughout 2009 and 2010, the headlines alternated between potential bank failures and Europe's Sovereign Debt Crisis. In short, the equity and credit markets were gripped with fear. This all came to a head during July and August of 2011 when the S&P 500 dropped 18 percent in 12 days. During that same period, the German DAX dropped 21 percent, Gold rose over 10 percent, and the 20+ Year Treasury Bond (TLT) jumped 14 percent.
For those with a short-term memory, below is an illustration of the performance mentioned above during the peak of the Sovereign Debt Crisis. Note as well that the CBOE Volatility Index (VIX) jumped over 130 percent during that time as well. Yes, fear was in the air.
Peak of Sovereign Debt Crisis – 12 Trading Days in July / August 2011
Well, a lot has changed since those days.  After the August 2011 Sovereign Debt Crisis bottom, many markets hit a lower low in early October 2011. From there, the trend inverted;  fear had simply exhausted itself and it was time to decompress.  Post October 2011, the credit markets have found some healing and this has boosted equities; The S&P 500 has climbed over 60 percent from the closing bottom low and 68 percent from the intraday lows!  As fear gave way to greed, Gold began to slip and now finds itself deep into a bear market.  Perhaps the pendulum has swung too far towards Greed and a correction is around the corner.
Equities vs Bonds vs Gold – Post Sovereign Debt Crisis Bottom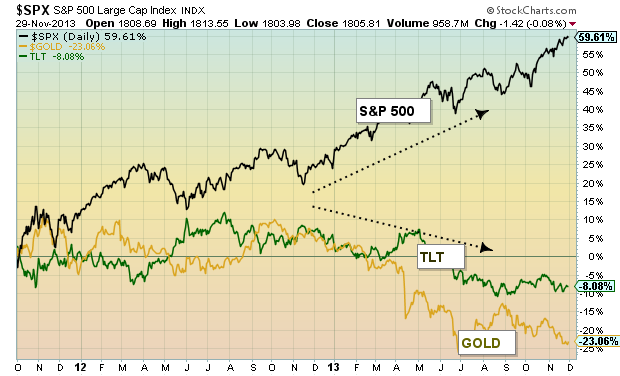 As seen in the chart above, the acceleration of the "Greed" cycle began late last year.  And it's interesting to note that developed countries have had the strongest rebound, with emerging markets and China underperforming.  Similar to a "V" bottom, equities have been the benefactor of what many are calling the Great Rotation (money flows out of bonds and into equities).  But will this have staying power?  And if so, the equity markets will still need to breathe over the short-term (i.e. a healthy correction).  And perhaps the most important question: Will the Sovereign Debt Crisis re-surface with version 2.0?
Twitter:  @andrewnyquist

Position in SH at the time of publication. Any opinions expressed herein are solely those of the author, and do not in any way represent the views or opinions of any other person or entity.