There has been a lot of debate around interest rates lately. Will they keep rising? Will they turn back lower? But amidst all the chatter about interest rates, most pundits are missing the boat. Today I want to share a few charts that hone in on something that many investors aren't talking about today: the prospects for a widening yield curve. And this may be building with the divergence of the U.S 10 year and 30 year Treasury yields.
My work suggests that there is technical evidence emerging that a sustainably steepening yield curve could be waiting in the wings. The charts below look at the 30 year treasury yield, 10 year treasury yield and the iPath US Treasury Steepener ETF (STPP) to tell the tale. Each chart includes my annotated analysis on the subject. Hope you find them helpful
30 Year Treasury Yield Index (TYX)
The green arrow to the right highlights what could be a significant breakout of the 2014-2015 downtrend line. The 30 year yield is also showing relative strength to the 10 year. And this could be alluding to a widening of the yield curve.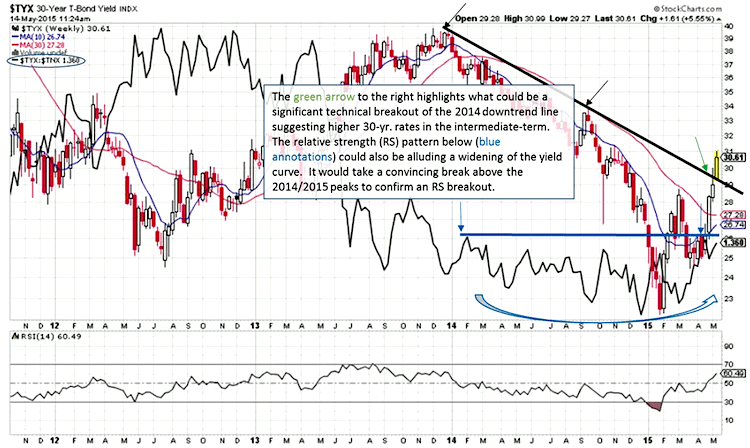 10 Year Treasury Yield Index (TNX)
Unlike the 30 year rates, the 10 year rates have yet to clear its 2014-2015 downtrend line.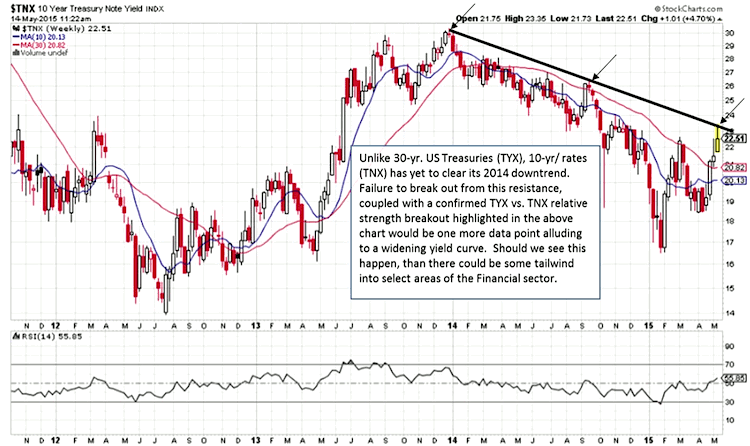 Treasury Steepener ETF (STPP)
The STPP is showing strength relative to the S&P 500 (SPX). Something to watch going forward.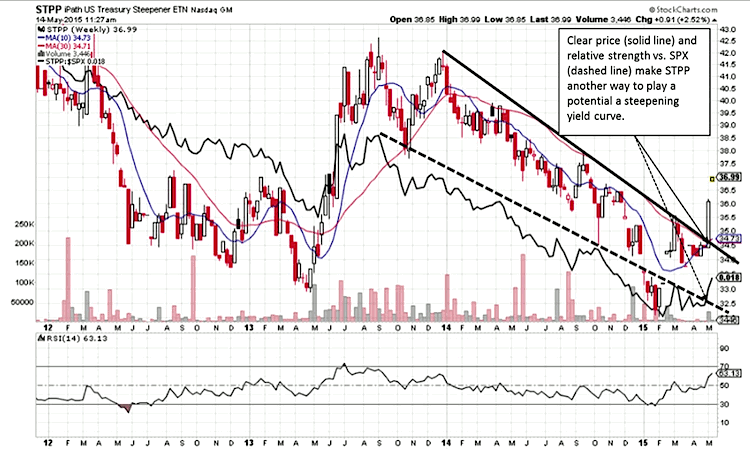 Thanks for reading.
As a personal disclosure, I do not own or have a direct financial interest in any security mentioned.  Although I am affiliated with T3 Trading Group LLC, opinions reflected are my own and should not be considered as investment advice.
Follow Jonathan on Twitter: @jbeckinvest
Any opinions expressed herein are solely those of the author, and do not in any way represent the views or opinions of any other person or entity.