The Russell 2000 ETF NYSEARCA: IWM, Retail Sector ETF NYSEARCA: XRT and Transportation Sector ETF NYSEARCA: IYT not only held up today, they also led the rally.
As noted over the weekend, "shorter-term we could still get a pop-and then it will depend on the IWM IYT and XRT's performance."
Just like Raul sits among the falling leaves staring at the gate waiting for something or someone exciting to visit, investors wait for the S&P 500, the Dow and NASDAQ to make new all-time highs.
Those indices continue to trade within a much larger trading range, i.e. S&P 500 ETF NYSEARCA: SPY range is 285-303.
So, in the face of today's stellar performance in our "inside the market" index and sectors, what's stopping the S&P 500 ETF (SPY) from visiting those new all-time highs?
A big factor this week is earnings. 25% of the stocks listed in the S&P 500 are scheduled to report this week.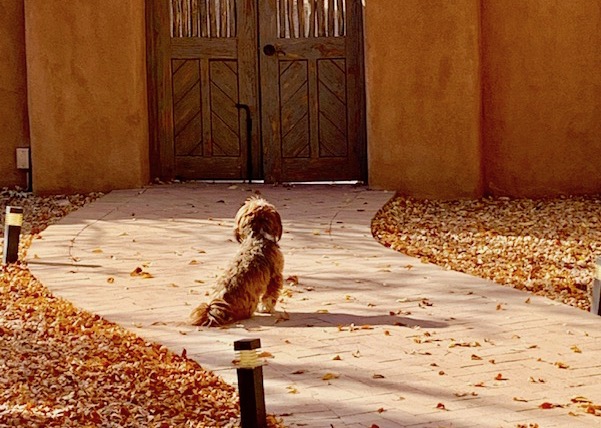 If I were the SPY and were going to pause right near the ATHs, this would be the week to do it.
After all, Raul can easily open the gate, but the fear of the unknown stops him from doing so.
On the charts, you can easily see that the Russell's (IWM) have cleared the 50-WMA (blue) but remain well below the highs from 2018.
SPY and NASDAQ are ever so close.
The Dow, hit with Boeing troubles, looks better than the IWM, but only marginally.
Rarely have I seen the market get so quiet at such a huge inflection point.
Nonetheless, that in of itself is telling.
Raul waits and waits for someone to come through that gate.
However, it must be the right someone.
The wrong someone can just as easily make him cower.
S&P 500 (SPY) 296 pivotal support. 300 now must hold.
Russell 2000 (IWM) 153.50 now the pivotal support.
Dow Jones Industrial Average (DIA) 270 now pivotal resistance.
Nasdaq 100 (QQQ) 193.50 pivotal. 194.71 higher resistance. 190.45 key support.
KRE (Regional Banks) 53.65 now needs to hold.
SMH (Semiconductors) 121.80 support and new ATHs is at 125.38
IYT (Transportation) 190 now the pivotal support.
IBB (Biotechnology) 102.50 important pivotal point. 105 resistance.
XRT (Retail) 43-44 huge resistance. 41.50 support.
Twitter: @marketminute
The author may have a position in the mentioned securities at the time of publication. Any opinions expressed herein are solely those of the author, and do not in any way represent the views or opinions of any other person or entity.