The Greek deadline is focusing a lot of eyes on the Euro, or at least it should be, as the FX market tends to impact a number of other asset classes and asset allocation strategies as well. Just as an experiment, let's try to strip out all of the news and noise about Greece for a moment and focus on what the Euro currency charts might be telling us.
From my perspective, they are telling me that there may be a lot of confusion/frustration upcoming for investors as contradicting chart patterns tell a two-fold tale.
The first, and technically speaking, more dominant trend calls for a lower EURUSD in the months ahead. My thought process here is largely derived from the breakdown of the nearly decade long symmetrical triangle pattern painted out in the chart below. Although key support still resides with the March 2015 low of 1.046, long-term bearish projections can be claimed to be as low as .772 over time based on the breakdown from the aforementioned pattern.
EURUSD Monthly Chart – Euro headed lower in the months ahead?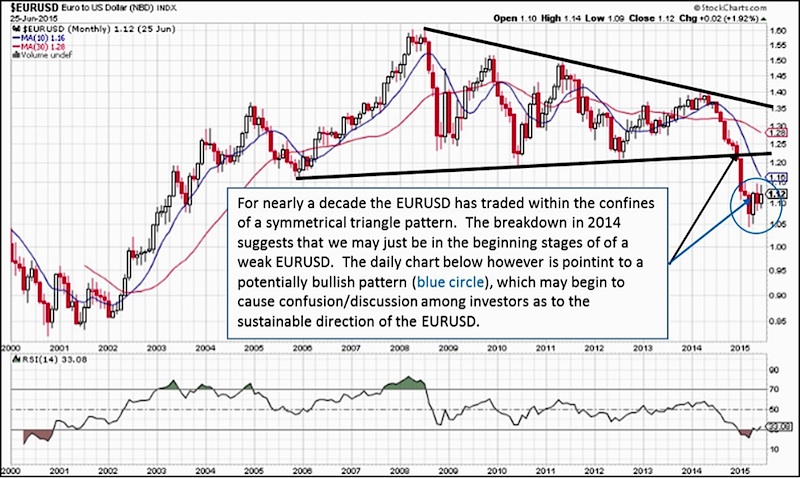 Now, what follows is where things may cloud investor's judgement, in my view. There appears to be a constructive basing effort developing over the past several months as shown in the chart below. It either looks to be taking the shape of an ascending triangle pattern or what is commonly known as a head and shoulders bottom pattern. The latter is typically connoted as one of accumulation (i.e. bullish). However, it would take a breakout from the neckline resistance, roughly near 1.144, to confirm a breakout, which could set into motion a potential near to intermediate-term rally in the EURUSD and start claims that a long-term bottom is in place.
EURUSD Daily Chart – Bullish pattern near-term for the Euro?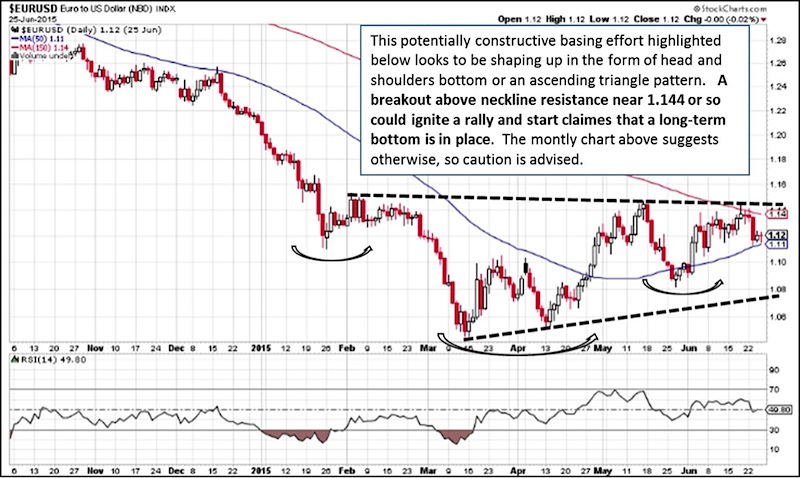 To conclude, a favorable outcome for Greece may help stabilize the selling pressure in the EURUSD, or better yet, lead to a forthcoming technical breakout. However, investors are wise to behold the longer-term bearish chart as a short-term rally may turn out to be some kind of bull trap if the dominant trend reveals its strength and resumes its bearish decline.
Thanks for reading.
As a personal disclosure, I do not own or have a direct financial interest in any security mentioned.  Although I am affiliated with T3 Trading Group LLC, opinions reflected are my own and should not be considered as investment advice.
Twitter: @jbeckinvest
Any opinions expressed herein are solely those of the author, and do not in any way represent the views or opinions of any other person or entity.