To counter Trump's' protectionism, India and Russia are backing a "new" multilateral trading system. 
Today, published in South China Morning Post, Lee Jeong-ho wrote an article about how Putin, Xi, and Modi are meeting at the Shanghai Cooperation Organization Summit this week.
The topic? China hopes that India and Russia will support a trade initiative to counter any tariffs that Trump imposes on China.
The summit is a "Beijing-led organization, known as the "alliance of the East", and is intended to provide an alternative platform for political, economic and security cooperation to those led by the US or other Western nations. India became a member two years ago."
India's justification for supporting this new agreement is because Trump removed India's preferential trade status given to them 30 years ago.
Meanwhile China and Russia have already signed a US$20 billion trade deal.
Neither Russia nor India are major trading powers in the global economic system. And European countries along with Japan, prefer to work within the World Trade Organization to protect themselves.
Nevertheless, I thought it would be interesting to compare the 3 charts of these three country ETFs – China ETF (NYSEARCA: FXI), Russia ETF (NYSEARCA: RSX), and India ETF (NYSEARCA: INDA).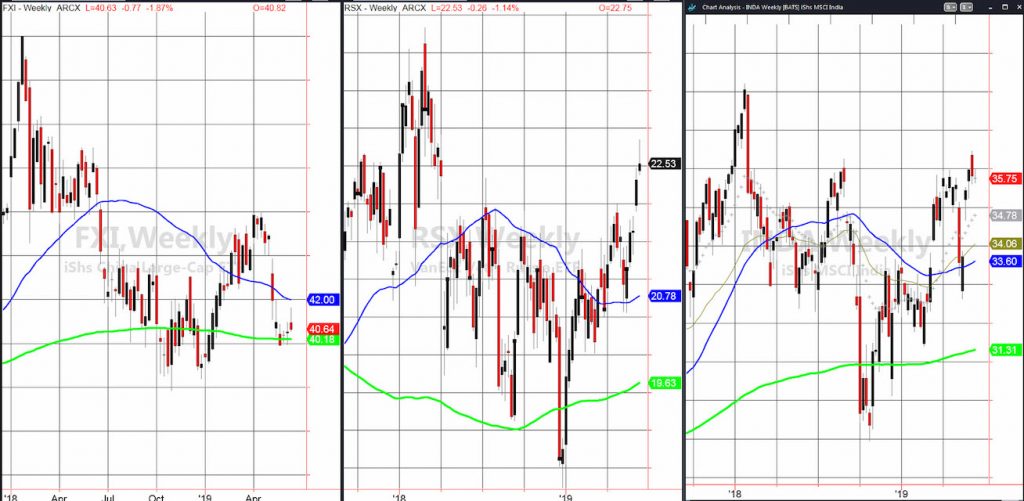 Far left is China (FXI). In the worst shape among the 3 countries' charts, FXI marginally holds the 200-WMA at 40.18. This puts it in a Caution Phase.
The Russia chart (RSX) shows the current levels in a bullish phase. In fact, RSX has made new 2019 highs. Assuming it holds 22.00, there's a chance it will go to test 2018 highs.
On the monthly chart, RSX has cleared the 80-month moving average after trading below it since 2010.
India (INDA) also made new 2019 highs last week. In the beginning of 2018, INDA made an all-time high at 38.21.  
FXI, clearly way weaker than the other two, sits right on the 80-month MA. A move under 40.00 will reflect further weakness to come.
Should FXI hold over 40.00 and clear 42.00, we can assume China has hatched with two mother birds minding the nest
Plant Your Money Tree is one of the Best New Wealth Books
I'm happy to announce that my book, "Plant Your Money Tree: A Guide to Growing Your Wealth", made it to BookAuthority's Best New Wealth Books:
https://bookauthority.org/books/new-wealth-books?t=ipp94p&s=award&book=153812257X
BookAuthority collects and ranks the best books in the world, and it is a great honor to get this kind of recognition. Thank you for all your support!
The book is available for purchase on Amazon.
S&P 500 (SPY) – 287.00 the 50-DMA is super pivotal.
Russell 2000 (IWM) – 152.75-153.35 is where the resistance lies. 151.65-the high 2 weeks ago-is pivotal and 149 the support.
Dow Jones Industrials (DIA) – 260.12 the ever so important pivotal level.
Nasdaq (QQQ) – 183.59 the 50-DMA. And, 179.75 support. If breaks look for a move back down to around 175.
KRE (Regional Banks) – 51.40 support. Overhead resistance at 53.50
SMH (Semiconductors) – 105.50 pivotal.
IYT (Transportation) – Resistance at 186.50. 185.75 pivotal and 180.85 support.
IBB (Biotechnology) – 103.15 pivotal.
XRT (Retail) – 42.35 the major resistance with now, 41 pivotal and 40.00 big support.
Twitter: @marketminute
The author may have a position in the mentioned securities at the time of publication. Any opinions expressed herein are solely those of the author, and do not in any way represent the views or opinions of any other person or entity.