As of Thursday, we had real concerns about the Economic Modern Family (of ETFs we follow).
Other than Sister Semiconductors ETF (NYSEARCA: SMH), the rest were stuck in negative phases.
We were particularly focused on Transportation Sector ETF (NYSEARCA: IYT).
That sector, so key to the overall health of the economy and the market, had to hang in there and show us some muster.
Our Transportation Sector IYT sib did just that.
And he did not act alone.
Granny Retail (NYSEARCA: XRT) and Regional Banks KRE joined in. 
Granddad Russell 2000 (NYSEARCA: IWM) also perked up.
Only Biotechnology (NASDAQ: IBB) went the other way on the heels of Illumina ILMN falling by over 15% after they announced preliminary results that their Q2 revenue will be $50 million lower than what Wall Street analysts anticipated. 
This is exactly why IBB is part of the Family-a sector so highly speculated, these types of overnight moves can shake investor confidence.
Henceforth, what the week proved, is that fundamental analysis is meaningless without a compass of technical analysis or price to show you the way.
That, and a little patience.
Thursday night I wrote, "I am inches away from declaring the next major trend. But will it be up or down?"
I went on to write, "If the Family joins in, the next move will be to the upside, and substantially so. Maybe even that 30k in the Dow."
I do want to mention another side of this rally coin.
Since it has been substantially fueled by the dovish statements of the Fed, what about commodities?
Are they still the better long-term play?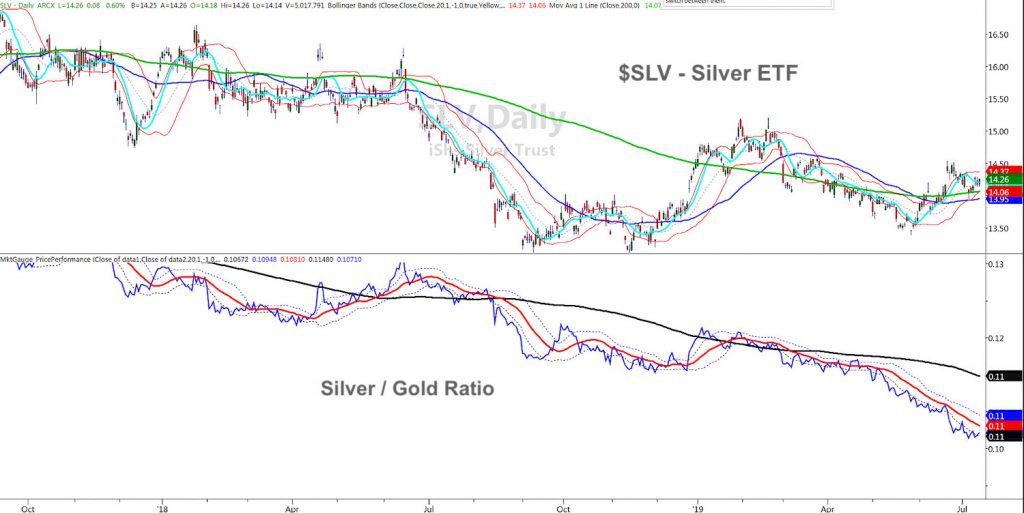 Here is a peak at the silver to gold ratio-still well below reversing it 90-year low.
On Friday, the dollar fell below a key moving average and entered into a caution phase.
Gold, silver, grains, steel, aluminum, wood, platinum and even palladium rallied.
Of course.
Commodities anticipate a goose to inflation should the Fed comply, and the dollar continue to trend lower.
So, what are we waiting for?
The silver to gold ratio to clear the red line or 20 DMA.
I have not budged on my conviction that the second half of 2019 will see higher prices in many commodities.
This ratio gives you a perfect compass to use as a gauge.
Announcements
Monday at 7 PM EST I will be presenting at the Wealth365 Summit. Register here: https://summit.wealth365.com/marketgauge/
Here is a link to a podcast I did with Minority Mindset and Jaspreet Singh https://theminoritymindset.com/mish-plant-your-money-tree/
I will be reducing the Daily coverage from 5 times a week to 3 times a week for the rest of the summer until after Labor Day. New schedule is Monday, Wednesday and Friday only.
S&P 500 (SPY) 300.72 printed a new all-time high. 297.50 pivotal support. 
Russell 2000 (IWM)154.55 is the major pivotal 50-WMA to hold. 158 resistance.
Dow (DIA) 273.36 the new all-time high. 269 pivotal
Nasdaq (QQQ) 193.52 the new all-time high. 190.75 support
KRE (Regional Banks) Unconfirmed Accumulation phase. 54.95 the 50 WMA now the next resistance to clear. And could spell the end of the rally if it gets there but cannot clear that level
SMH (Semiconductors) 115.70-116 resistance. Support at 111.75 to hold
IYT (Transportation) Great work Tran! Back in unconfirmed bullish phase. Back over the 50-WMA which makes that pivotal now-188.50. Still needs to clear recent highs at 191.48 on a closing basis 
IBB (Biotechnology) 109.50 now resistance and 105.35 the 50-DMA pivotal support
XRT (Retail) Unconfirmed Recuperation phase. Closed at 43.15. Over 43.50 should continue higher. Major support at 42.45
Twitter: @marketminute
The author may have a position in the mentioned securities at the time of publication. Any opinions expressed herein are solely those of the author, and do not in any way represent the views or opinions of any other person or entity.