In November, we suggested that readers might wait for a shorting opportunity that was visible on the horizon for the copper mining ETF.
At that time it appeared as though a bounce was starting, but we believed the bounce would encounter resistance and probably reverse. Now the setup appears more mature.
Charting the Global X Copper Miners ETF (NYSEARCA: COPX), the upward retrace from the 18.54 area occurred mostly as expected, even though price gave the support level another test a few weeks after our writing.
The slightly lower test allowed us to refine our targets for the upward retrace and better identify the likely areas for the next downturn to begin.
Our main Elliott wave count views the upward correction as complete with three waves leading to resistance at 22.34.
A reasonable confirmation of that scenario would come with a weekly close beneath 19.05, but breakout entries are not the only way to make use of this kind of pattern.
Copper Miners (COPX) Chart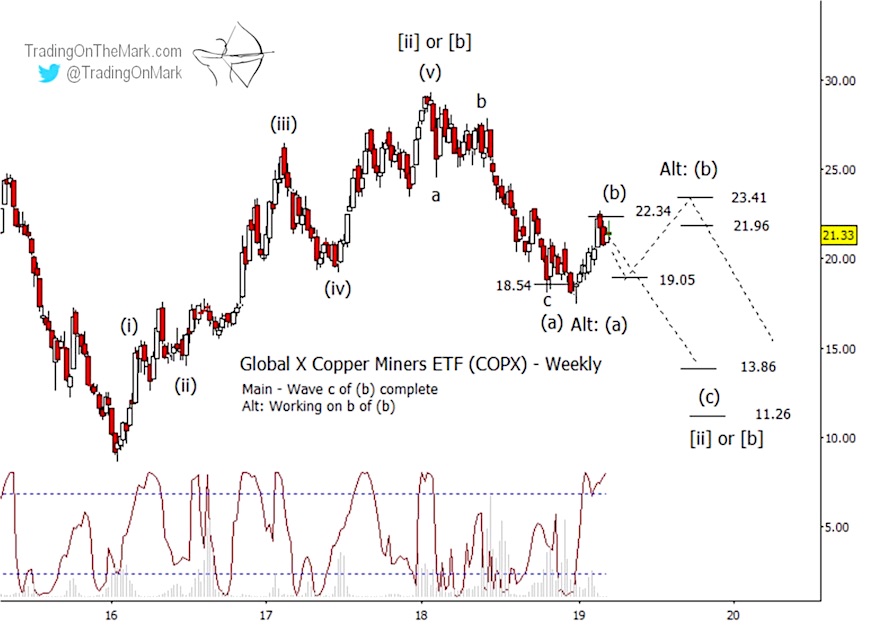 Keeping with the main scenario, a move beneath the first support should produce more weakness and allow for a test of lower Fibonacci supports at 13.86 or 11.26, representing a potential decline of about 38% to 49% in share value. In the context of the larger pattern, a strong move like that would qualify nicely as wave (c) of [ii], or wave (c) of [b].
The alternate scenario to consider would be for price not to drop beneath 19.05. In that case, another bounce could take place as part of a protracted wave (b). Preliminary targets for a bounce in the alternate scenario include 21.96 and 23.41.
Trading with the right charts gives you a real edge. Readers of our free emailed newsletter receive exclusive charts, analysis and opportunities to save on TOTM subscription packages. You can also follow Trading On The Mark on Twitter for chart updates.
Twitter: @TradingOnMark
The authors may have a position in the mentioned securities at the time of publication. Any opinions expressed herein are solely those of the author, and do not in any way represent the views or opinions of any other person or entity.