One big question this quarter is how consumers are spending their extra cash saved by the drop in gas prices. So far, we haven't seen a huge surge in the consumer discretionary names as a whole – just look at the Consumer Discretionary ETF (XLY). In fact, they've lagged the market.
But there are reasons to hold out hope.
Below is a relative strength chart for XLY, comparing it to the S&P 500 ETF (SPY). It's been a bit weak, but it's sitting on lateral support and hasn't broken down.
XLY:SPY Relative Performance Chart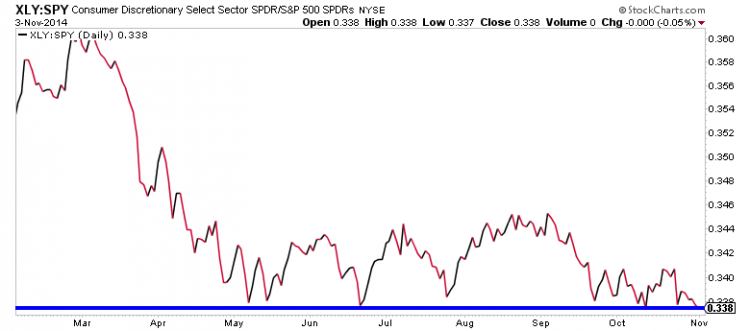 Turning to the Retail ETF (XRT), we see that there has been a slight boost in relative performance to the S&P 500 ETF (SPY) over recent months. We will need to see an uptick in relative strength if the consumer is going to show up for the holidays.
XRT:SPY Relative Performance Chart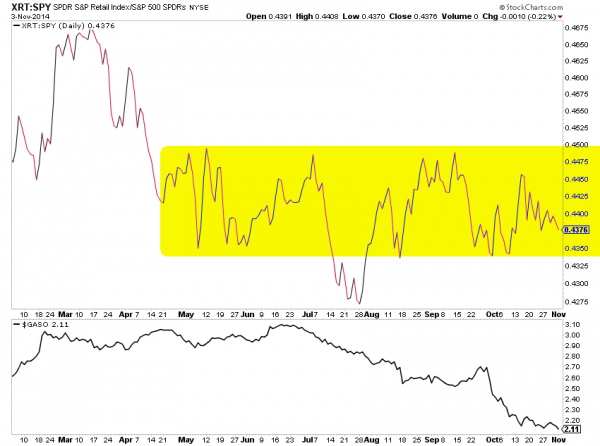 Looking at the consumer "dashboard" chart below, it's clear that there has been a boost in buying of products that people need. In short, folks are taking the extra dollars in gas savings to do home repairs, buy new appliances and fix up their cars.
So now that consumers are buying what they need, perhaps this is a sign that they will to buying things that they want (discretionary spending) into the holidays.
Check out the consumer dashboard below, looking at several key ETFs and stocks. Note that Apple (AAPL) continues to stand out. It's performed quite well, indicating that folks have some extra dollars to buy the newest iphone.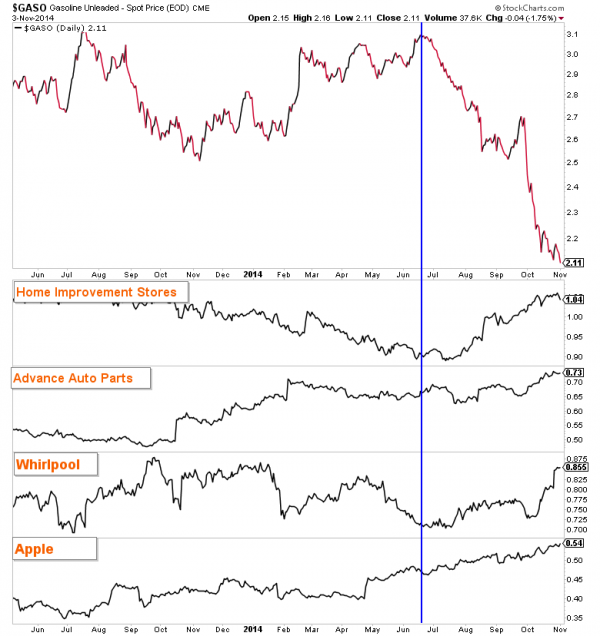 Lastly, the anointed holiday play GoPro (GPRO) is trading very well after breaking a falling channel post earnings. There are no signs of consumer weakness here.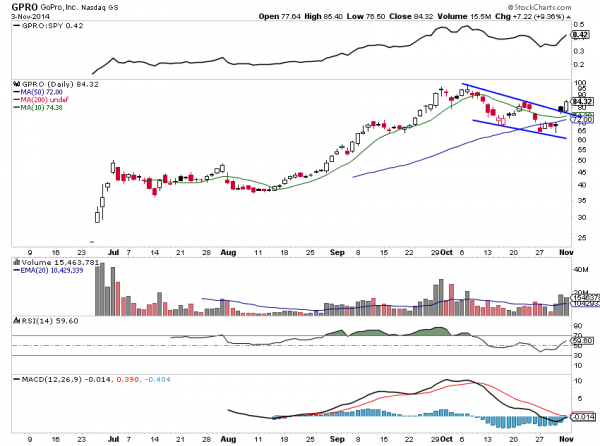 It may seem alarming that folks are just buying what they need, but this is completely normal behavior for long time cash strapped consumers. Add in the fact that two of the biggest holiday spending tells are acting healthy and we have little reason to buy into any negative spin on consumer spending.
Thanks for reading.
Follow Aaron on Twitter:  @ATMcharts
No position in any of the mentioned securities at the time of publication. Any opinions expressed herein are solely those of the author, and do not in any way represent the views or opinions of any other person or entity.