"Timing the market is a fool's game." We hear this all the time. However, the notion that markets are efficient is a fallacy. Markets are driven by human emotion: bubbles form and pop as euphoria turns to panic. From Tulip Mania in the 1630's to the Dot Com Bubble in the late 1990s, markets have proven time and again that greed and fear lead to inefficient markets.
At Market Inflections, we have found a way to measure this investor behavior by employing a series of market timing algorithms. Think of them as barometers that measure fear and greed and gauge when market trends are most likely to begin and end.
These algorithms also measure indecision and market friction: when bulls and bears line up on opposing sides and take their positions. As this happens, our system generates what we call a Compression signal, which indicates that volatility is about to expand. These signals typically result in oversized moves.
Biotech ETF (IBB): Compression Signal on the Daily Chart
Take iShares Nasdaq Biotechnology ETF (NASDAQ:IBB), for example. Last week our algorithms generated Compression signals on the iShares Biotechnology ETF, which suggest that a new trend is about to begin (blue bars in the chart below). The last time a similar signal occurred was back in September. Within a few weeks, IBB lost 15% of its value.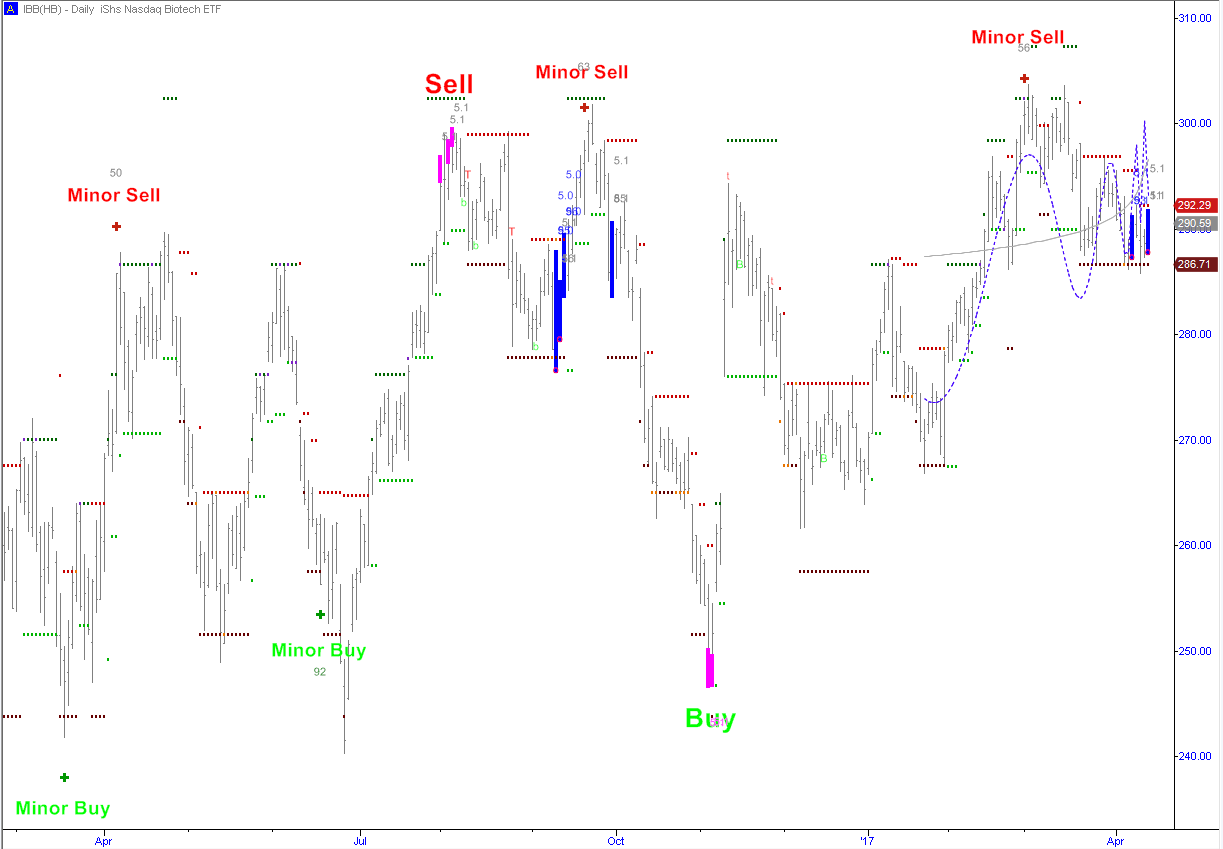 The best strategy to trade this signal is to use a straddle or strangle options trade. This signal is significant through June 2017, so it would be best to use June IBB puts and calls for this trade. For traders who prefer not to use options, an alternative strategy is to wait for a daily close above resistance (currently at 292.29) to get long, or a close below support (currently at 286.71) to get short.
If you are interested in receiving setups like these on a regular basis, please visit our website at www.marketinflections.com to learn more about our new Turning Point Signals service.
Thanks for reading.
READ:  False Breakout May Spell Trouble For Small Caps
Twitter:  @larryfooter   @mktinflections
The author is long IBB puts at the time of publication.  Any opinions expressed herein are solely those of the author, and do not in any way represent the views or opinions of any other person or entity.