Large cap tech stocks had a rough day. And no other index measures this as well as the NASDAQ 100 (NDX).  The NASDAQ 100 closed down 1.36% as shares of Apple (AAPL) fell 2.71%, while fellow tech titan Facebook (FB) dropped 2.23%.
But what made the NASDAQ 100 so interesting today was its close at 4089, the third such trip to this level in the past month (this level also marks the September highs). Wben coupled with an ominous looking rounded top formation (no that's not an umbrella), this level appears to be very important.
NASDAQ 100 – Daily Chart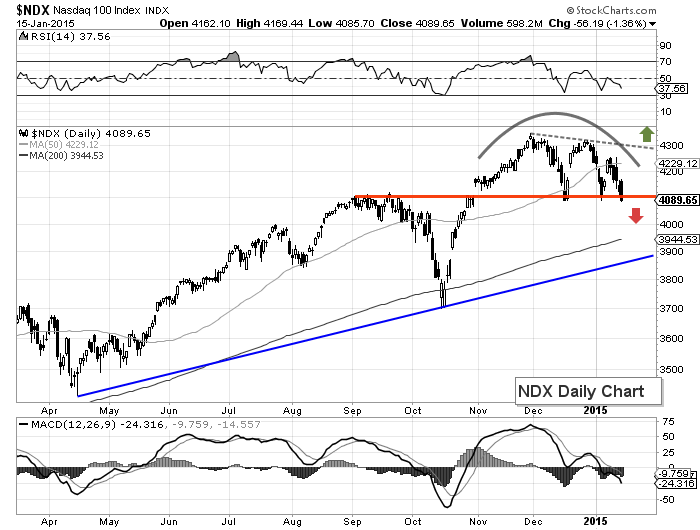 But by the end of the day, several bloggers and tweeters had commented on the prospects of a Nasdaq "triple bottom". And as a technician myself, it's fair to note that triple bottoms are pretty weak… the more times price knocks on a level, the more likely it is to break.
Here's a tweet from fellow contributor Steve Burns (@SJosephBurns) and author of the blog NewTraderU, looking at the NASDAQ 100 ETF (QQQ):
$QQQ right on a near term triple support level. pic.twitter.com/KBHL4Stauc

— Steve Burns (@SJosephBurns) January 15, 2015
And another from trader Robert Lesnicki (@TraderRL23) showing the same setup:
$QQQ Close all water tight doors…. $NQ_F $SQQQ https://t.co/pz5xcWGPGa

— Robert Lesnicki (@TraderRL23) January 15, 2015
On the flip side, perhaps too many eyeballs are on this level, making it more of a sentiment battleground. @DarvasTrader also highlighted this level, but added that today's downdraft didn't qualify as a distribution day due to low volume.
The $QQQ is now testing the $100 mark for the 3rd time in the past month. We'll see if it continues to find support there.

— DarvasTrader.com (@DarvasTrader) January 15, 2015
Ugly drop on the NASDAQ, but because today's pullback occurred on decreased volume, this was NOT a Distribution Day. $QQQ

— DarvasTrader.com (@DarvasTrader) January 15, 2015
The price action tomorrow and into early next week should be telling. But the view from above doesn't look so good right now. Trade safe.
Follow Andy on Twitter:  @andrewnyquist
No position in any of the mentioned securities at the time of publication. Any opinions expressed herein are solely those of the author, and do not in any way represent the views or opinions of any other person or entity.