Lots of talking heads are pointing to a lower yield curve as a warning sign. While the yield curve is relatively good indicator for the business cycle, a compressed (or even inverted) yield curve isn't an immediate signal for bears.
It need to find confirmation in other data.
Today we'll look at the yield curve, along with current volatility in the treasury bond markets (or lack thereof).
The first chart offers a glimpse of where we are at in the business cycle via the yield curve: The 10-Year U.S. Treasury Yield (INDEXCBOE:TNX) minus the 2-Year U.S. Treasury Yield.
As a solid indicator for maturing market cycles, it's no surprise that it tracks in line with the unemployment rate. The push lower is a sign that the cycle is maturing… something to watch.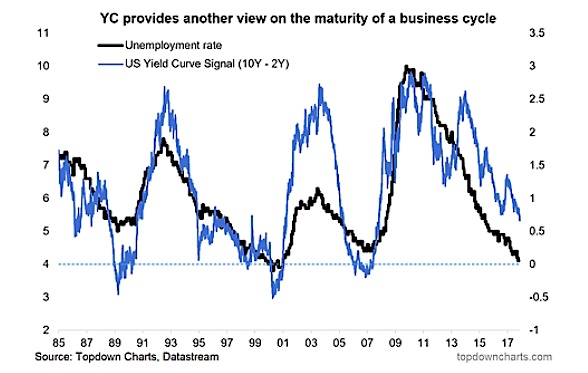 In the second chart, we look at the Bond Volatility Index.  We typically see a rise in volatility towards the end of the cycle. Note that implied volatility for the bond market is near all-time lows currently.
Thanks for reading.
Twitter:  @Callum_Thomas
Any opinions expressed herein are solely those of the author, and do not in any way represent the views or opinions of any other person or entity.