28 Years Later October Still Makes Investors Weary.
Hello from Coronado Island in San Diego. I'm out here for Stocktoberfest. If you have never been here before, it is simply the best investing conference ever. Go next year, you'll thank me later.
Getting to some stock market history, today is the 28th anniversary of Black Monday. Out of 29,383 days since 1900, no day has a worse one-day return than the 22.61% drop on that fateful day.
Think about this:  If a Black Monday type decline occurred again today, the Dow Jones Industrial Average (DJIA) would be down 3,892 points. Ouch.
Here are the five largest percentage drops ever for the Dow. I think it's interesting that four of the five took place in October and four of five were on a Monday. As you can see, Black Monday is the worst.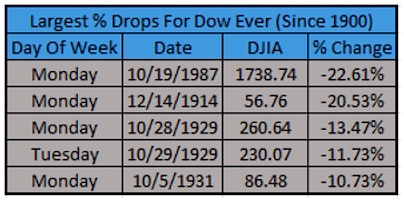 In terms of point drops, Black Monday is the 16th largest point drop ever. The largest is the 777 drop in the midst of the Financial Crisis.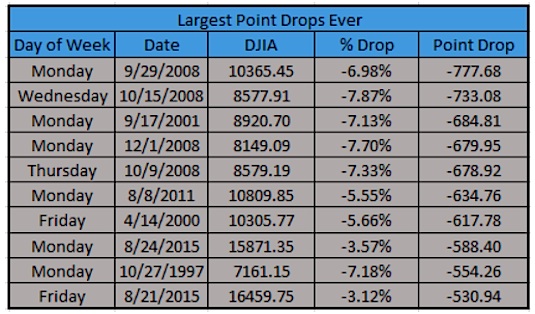 More recently, the Flash Crash we had back in August was the largest intra-day point drop ever, larger than the original Flash Crash in May 2010.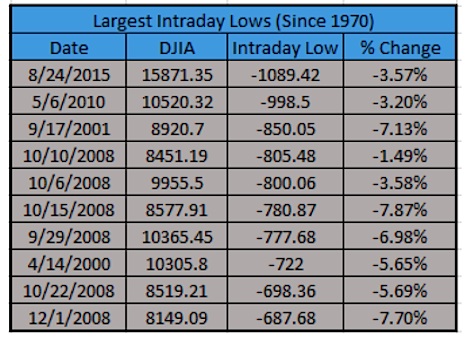 Lastly, here is how the worst day of the year (percentage wise) looks for each year since 1900. As you can see, Black Monday sticks out like a sour thumb for this half of the century.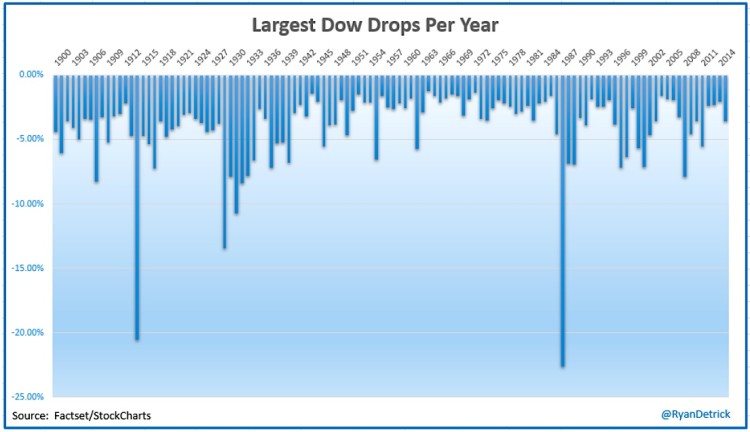 Thanks for reading and have a great week!
Twitter: @RyanDetrick
Read more from Ryan on his tumblr.
Any opinions expressed herein are solely those of the author, and do not in any way represent the views or opinions of any other person or entity.