Bitcoin continued to crash on Tuesday morning, declining by as much as 10%, after having already fallen 14% on Monday.
We don't believe the digital currency's fall is over, with a few more weeks of risk remaining in the near term.
Bitcoin crashed to its lowest level in over a year today and is now down 26% since the beginning of the month.
This is related to increasing enforcement by US and European government authorities, as well as a new "fork" that further splinters the digital currency.
As well, according to Tom Lee of Fundstrat, "Liquidity is suffering, as a combination of trade tensions, tightening central banks, and Brexit are causing correlations across markets to rise." Lee also noted that the break below $6000 may have triggered stop losses, leading to further declines.
Our analysis of Bitcoin's market cycles indicates that it is in the declining phase of its current intermediate market cycle. We expect a bounce in early December, but expect that it won't take much for it to fail.
Bitcoin (BTC) Futures Weekly Chart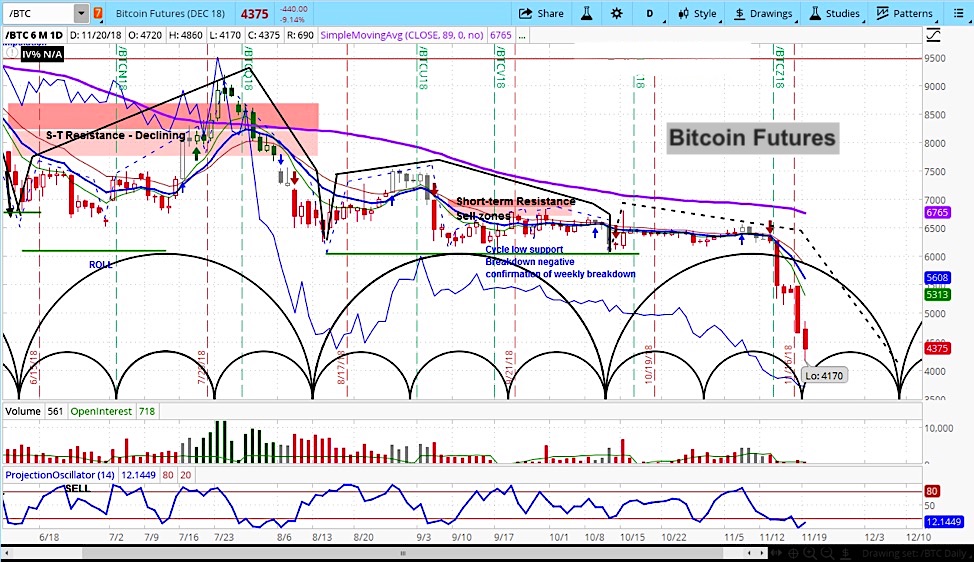 With the number of digital currencies nearing 2000, our view is that the crypto-bubble remains inflated, despite price declines. We expect that in coming years the number of crypto-currencies will sharply decline.
For more from Slim, or to learn about cycle analysis, check out the askSlim Market Week show every Friday on our YouTube channel.
Twitter:  @askslim
Any opinions expressed herein are solely those of the author, and do not in any way represent the views or opinions of any other person or entity.