The strong October rally continues. As you may know, at the start of October I laid out why a nice surprise fourth-quarter rally was likely. Mainly, the price action was still positive, stock market seasonality was bullish, and market sentiment had gotten way too bearish. So far so good.
We saw a 12 percent correction in stocks after not having a 10 percent correction in four years. So a correction was overdue.
At the same time, the amount of panic during the recent stock market correction was unreal. To put the price action into context, this is perfectly normal, though.
Here's a chart showing what S&P 500 corrections look like since 1928:
Now the question is what could a big October rally mean for stocks going into year end? Going back 40 years to 1975, the average October gain for the S&P 500 is 0.74%. The rest of the year is up 3.16% on average and higher 77% of the time.
The logical question is:  What happens when you have a big move higher in October?  
October has been up more than 4 percent 11 times over the past 40 years. Wouldn't you know it, the returns the rest of the year actually get stronger. The rest of the year is up 4.4% on average and higher 82% of the time. Check out the median return of more than 5%. Not bad, not bad at all.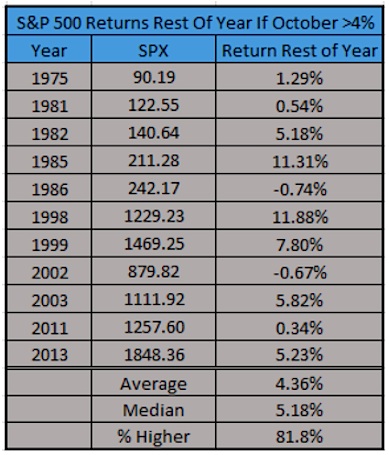 My tune hasn't changed:  It isn't the popular call, but the chance this stock market rally continues is strong in my opinion. Strength usually equals strength and this big October rally could be another clue.
Thanks for reading.
Twitter: @RyanDetrick
Read more from Ryan on his tumblr.
Any opinions expressed herein are solely those of the author, and do not in any way represent the views or opinions of any other person or entity.