There was a great stat making the rounds last week that got A LOT of press. Did you know that going back to 1928, the S&P 500 has never been positive year-to-date after being down more than six-percent after the third-quarter?
And given the S&P 500 was down 6.74% after the third-quarter in '15, I guess we should write off a green year in 2015 for stocks?
Or maybe not.
First off, here is all the stock market data that shows no year down six-percent after the third-quarter has ever finished green. Can't argue with it.
But here's where you have to be very careful who you listen to and how you pay attention to data. Look at the data below… 2015 is the BEST starting point for any of the years included in the sample. That's a nice advantage.
S&P 500 Annual Returns After Being Down > 6% Thru 3rd Quarter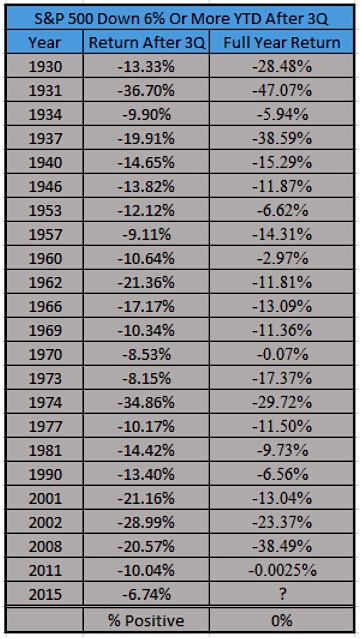 Check out the average for all those years that were down more than six-percent after the third-quarter. The average year is down nearly 16-percent! Of course it is tough to finish green, it is starting at such a major disadvantage.
Now take a closer look above. The -6.74% in '15 is actually the 'best' starting point out of all the other bad years. In order to get back to green for the year, the S&P 500 needs to gain 7.23% in the fourth-quarter. Out of 263 total quarters since 1950, the S&P 500 has gained 7.23% or more 64 times. That comes out to about 24% of the time! So is there a one-in-four chance '15 finishes higher or a 0% chance?  That's having some fun with data, huh?
I was on BNN on Friday and I laid out why I think the odds are high for a surprise fourth-quarter rally. Can the S&P 500 finish green for the year?  I sure wouldn't rule it out.
Thanks for reading.
Twitter: @RyanDetrick
Read more from Ryan on his tumblr.
Any opinions expressed herein are solely those of the author, and do not in any way represent the views or opinions of any other person or entity.