Should investors take a bite out of Apple stock (AAPL)?  Sorry, I couldn't help myself. But that is a question that many investors are likely asking themselves as the tech juggernaut approaches the release of its 3rd quarter earnings report tonight. As per usual, many investors will tune in to the AAPL earnings like the public does a prime time tv show.
My thought: I think it's a wait and see moment Apple's stock price. Furthermore, investors likely won't know much until the end of the week (at the earliest).
The 3rd quarter AAPL earnings report is due out today after the bell. And to be quite frank, I have no idea what the earnings numbers are going to look like. However, I certainly am aware of what the trend is saying. Apple (AAPL) has been a great trend following stock since the market bottom of 2009. See for yourself in the below chart.
Quite simply, when the weekly close is above the 40 week moving average you want to be long AAPL.
And when it is below the 40 week moving average, you want to be out of the stock or possibly short (if that's your cup of tea).
So although the media is having a grand time discussing AAPL earnings and what Apple means to the broader market, as a trader I believe investors can wait until Friday to see if there's any reason to be long the stock.   click chart to enlarge
Apple Stock Chart (AAPL) – Watch That 40 Week MA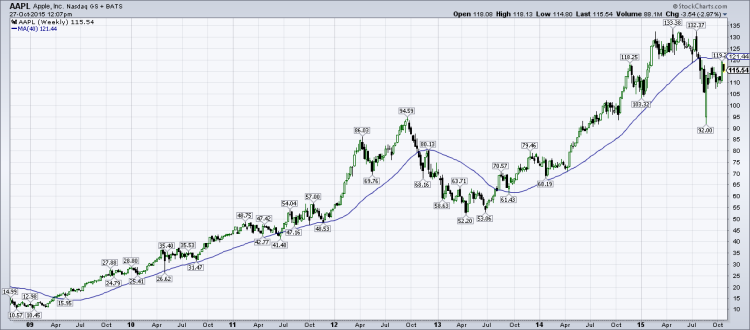 Thanks for reading and have a great rest of your week.
Twitter:  @Snyder_Karl
The author does not have a position in any of the mentioned securities at the time of publication. Any opinions expressed herein are solely those of the author, and do not in any way represent the views or opinions of any other person or entity.