Here are a couple of good examples of how changes in demographics and consumer trends can affect markets.
We'll look at how Consumer banking and traditional retail have morphed into the electronic online age… and how the brick and mortar side of the business isn't what it used to be.
First up, the number of commercial banks in the United States is down to 5,381 – another new low.
In fact, the number of banks in the US has now dropped 31 straight years and an incredible 123 straight quarters.
# of Commercial Banks In U.S. 1984 – present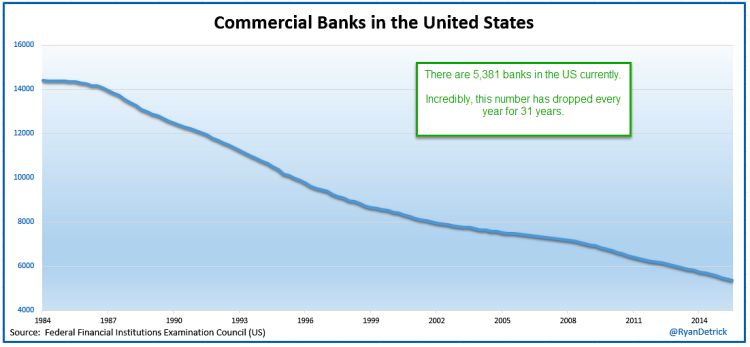 The reality is many of the nation's smallest banks have closed or merged. Brick and mortar branches are becoming less profitable, as all you need anymore to deposit a check is your cell phone. Then throw in the record low interest rates the past six years and bank margins have been crushed – again hurting the smaller banks.
My take is this trend will continue. Over 5,000 banks still sounds like a lot to me. I just need an ATM and a cell phone to do all my banking.  I'm guessing others are similar. This will continue to put pressure on smaller banks and we might look up in a few years and there will be 3,000 banks.
Next up is one of my favorite charts and it is showing no signs of slowing down either. As of the third quarter, 7.4% of all retail sales took place online. This was another new record. And there's no company (or stock) that has been helped more than Amazon (AMZN) by this consumer trend.
Online Sales Continues To Pressure Traditional Retail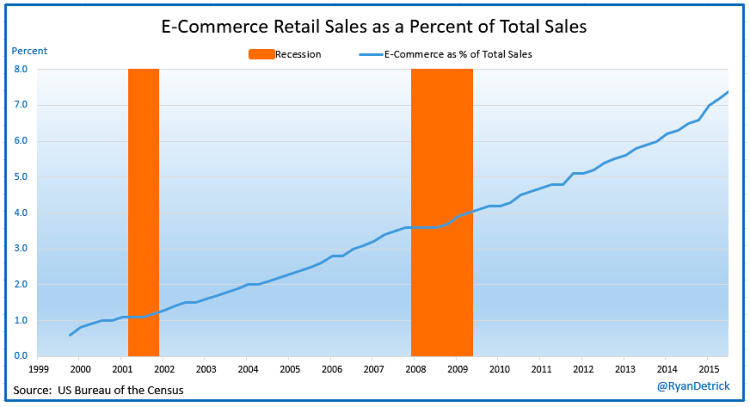 As more and more people buy products from their phone and never step foot in a store, this will continue to help Amazon and hurt the more traditional retail companies. Look at what Macy's had to say last week, then look at a chart of Amazon stock price to see all you need to know.
I personally can't stand going to a store and would gladly wait two days for a product to show up in the mail. Looking at this growing retail sales / consumer trend, I think others agree and I don't see how this trend slows. It will continue to be a big issue for giant traditional retail companies like Wal-Mart (WMT) and Macy's (M).
Thanks for reading.
Twitter: @RyanDetrick
Read more from Ryan on his tumblr.
Any opinions expressed herein are solely those of the author, and do not in any way represent the views or opinions of any other person or entity.