By Andrew Nyquist
I know, the story is tragic, and the company is a mess.  Since 2008, Research In Motion (RIMM stock) has been involved in a slow motion car crash.  Totally and utterly unprepared for smartphone competition and the resulting dynamic change, the Canadian company has watched its stock drop from over $140 in 2008 to a $20 bill today.  Ouch!  Or rather, OUCH for the stubborn shareholders that held on – may they learn something about a "stop loss."  Apparently Apple's (AAPL) iPhone and iPad weren't scary enough…
So, what in the hell am I doing writing about RIMM stock you ask?  And what on earth possessed me to use the word "buy" in the title?  Well, it wasn't easy.  Personally, I think their phones are boring and management has done a poor job of maximizing value and business opportunity.  I spend more time venting about my phone than I do talking into it.  Yet, I still want to buy the stock… Yes, want.  Haven't bought it yet, but eyeing it up as a short to mid-term (< 6 mos.) trade idea.  My reasoning for is both fundamental and technical (as in stock chart technical!).
Consider the following:
1)  Stock Technicals: RIMM stock is nearing mult-year support in the 17-20 dollar range
2)  Value and Value:  RIMM stock is close to becoming a teenager and book value is around 19.  The brand is well recognized (for better or worse) and management is due for a shake up.  The company also has no debt and a billion in cash.
3)  It's a Contrarian's Delight:  The aura surrounding the stock is so negative that any bit of decent news could spur a rally (i.e. a shake up in management, prospective licensing/software deal, or news of a possible acquirer)
Again, this is for short to mid-term active investors.  Patience is key and purchases should be made in increments.   See chart below.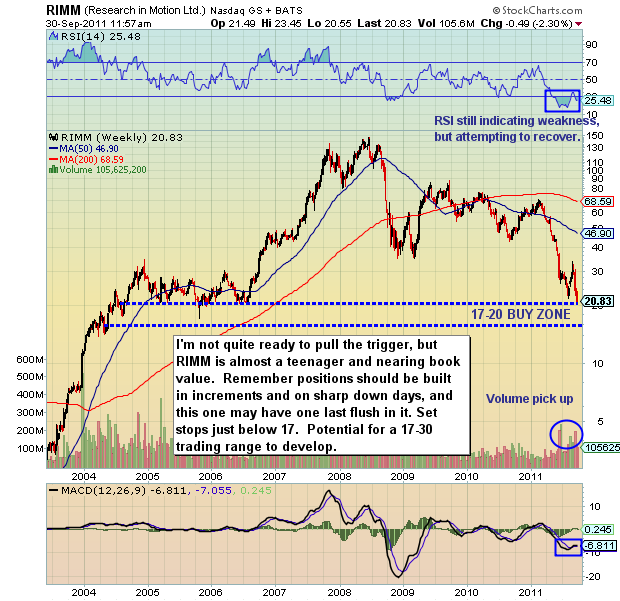 Have a great weekend.
—————————————————————-
Your comments and emails are welcome.  Readers can contact me directly at andrew@seeitmarket.com or follow me on Twitter on @andrewnyquist.  For current news and updates, be sure to "Like" See It Market on Facebook.  Thank you.
No positions in any of the securities mentioned at time of publication.
Any opinions expressed herein are solely those of the author, and do not in any way represent the views or opinions of his employer or any other person or entity.