As  we draw closer to Apple's 1Q earnings report on January 27th, investor chatter is ramping up. According to Estimize, Wall Street consensus is for earnings of $2.56, while the community is looking for $2.58. Either way, both estimates would crush 2014 1Q earnings. But if you are an active investor hoping to get into Apple (AAPL) for a quick trade or investment, you may want to see how the current stock price pattern shakes out on the AAPL chart. It will likely determine whether we see Apple around $100 per share prior to earnings, or see an Apple breakout and prices closer to all-time highs (or higher).
On January 1, I wrote about Apple's prospective correction, looking at the AAPL chart to highlight some minor and major support levels. The stock slipped as low as $104.63, before climbing again. So what's the AAPL chart saying now?
Watch the downtrend line!!  The stock is pressuring the downtrend line today and may breakout with a close above the downtrend line and follow through. A breakout would likely target its all-time highs. However, if the bears find a way to defend the downtrend line, Apple could press back towards its lows.
So the question is, will Apple breakout today? Or will it pull in further before attempting to go higher?  Again, this will likely be determined by the downtrend line.
AAPL Chart – Breakout or No Breakout?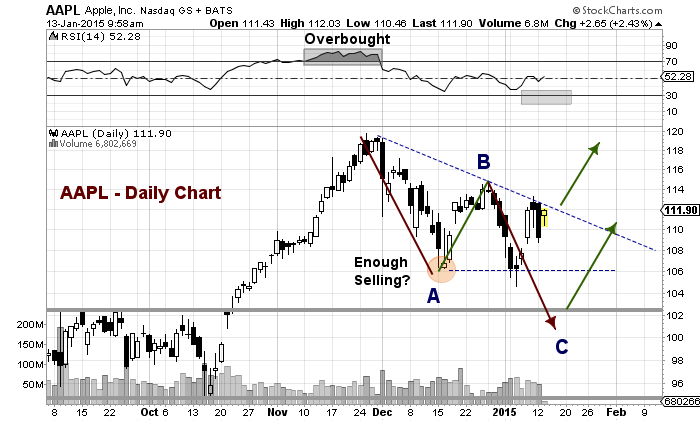 Thanks for reading.  Trade safe. Trade disciplined.
Follow Andy on Twitter:  @andrewnyquist
No position in any of the mentioned securities at the time of publication. Any opinions expressed herein are solely those of the author, and do not in any way represent the views or opinions of any other person or entity.