As the stock market appears to be confirming a corrective phase, the question is where to rotate within the equity space. 
When the stock market starts to weaken, I like to look for stocks that have remained in positive configurations and stayed strong on a relative basis. 
Traditionally defensive sectors like Utilities, Real Estate, and Consumer Staples certainly could make sense, but here are three restaurant stocks that may be worthy of consideration.
Restaurant Stocks Remain Resilient
Restaurant names have emerged as top relative performers, holding recent price support levels while many stocks have already broken down. 
A chart of the Hotels, Restaurants, and Leisure Index (which includes much more than restaurants, of course) shows how the group has remained above long-term moving averages and shown resilient performance relative to the S&P 500.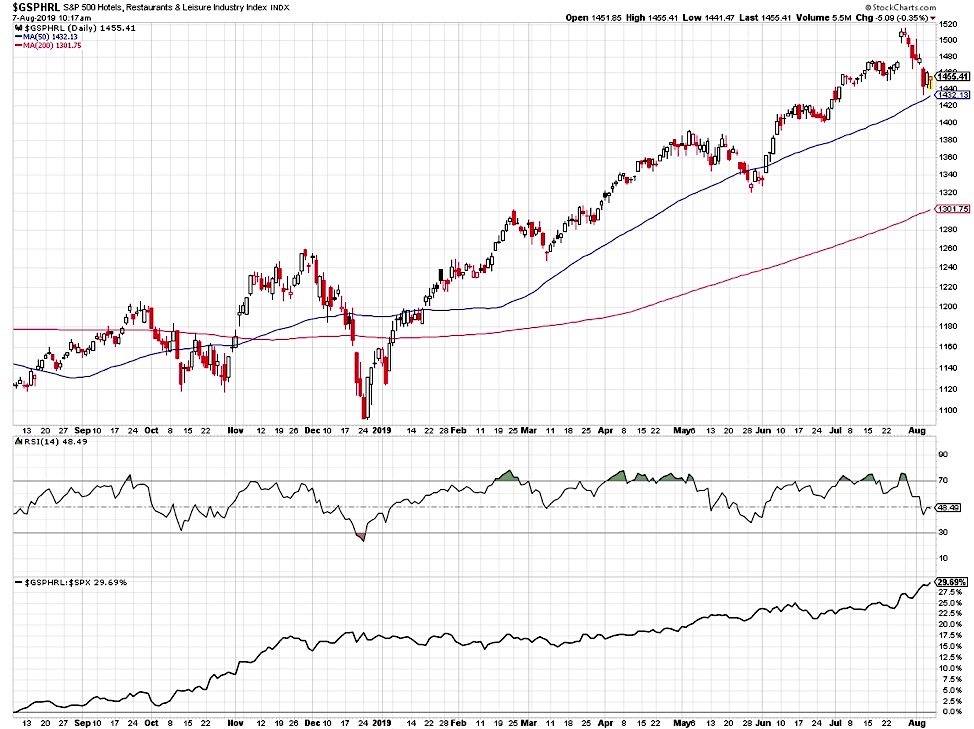 So which three restaurant names look promising here?
1) Starbucks NASDAQ: SBUX
If you question whether Starbucks (SBUX) should be considered a restaurant, simply enter one of the ubiquitous stores and inhale. Does it smell like coffee, or does it smell like breakfast sandwiches? That's why Starbucks can safely be considered a restaurant.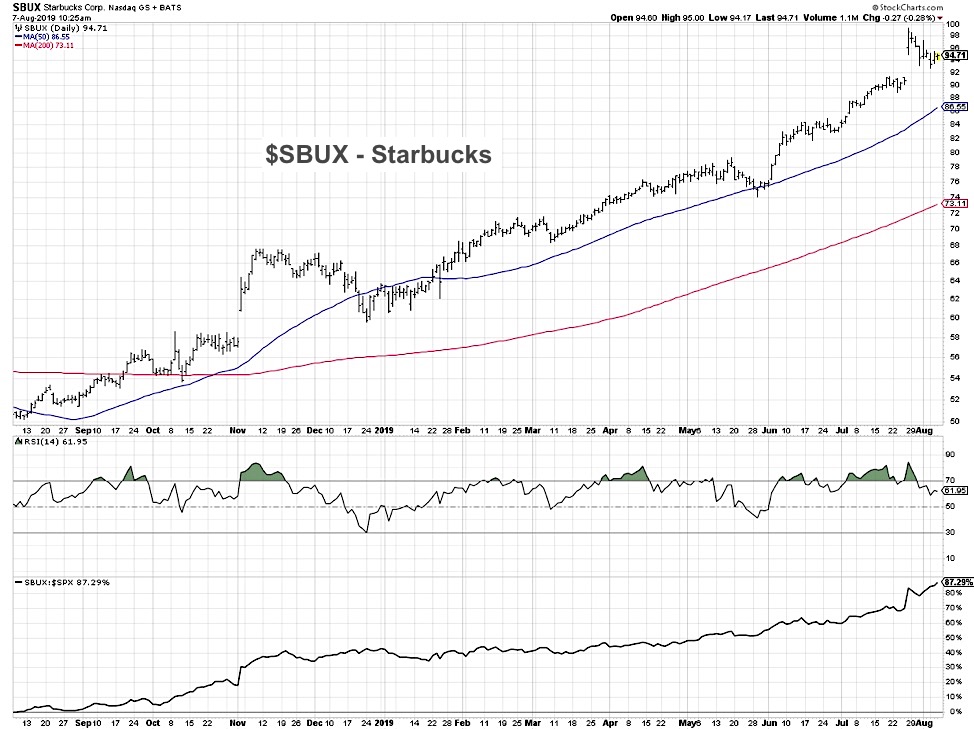 SBUX had a nice jump last month due to earnings and has settled down a bit in early August. But while many names have broken down through their 50-day moving averages, Starbucks has remained above. It's actually not made a lower low yet, which speaks to the strength of the price momentum.
The relative line tells the real story here, showing a stock that has managed to outperform consistently for pretty much the entire last twelve months.
2) Yum! Brands Inc NYSE: YUM
YUM has a similar price configuration to SBUX, with a recent earnings jump and a pullback in early August. Here we see how the RSI, a key measure of short-term momentum, has remained elevated while the S&P 500 has seen its RSI dip below the oversold threshold of 30.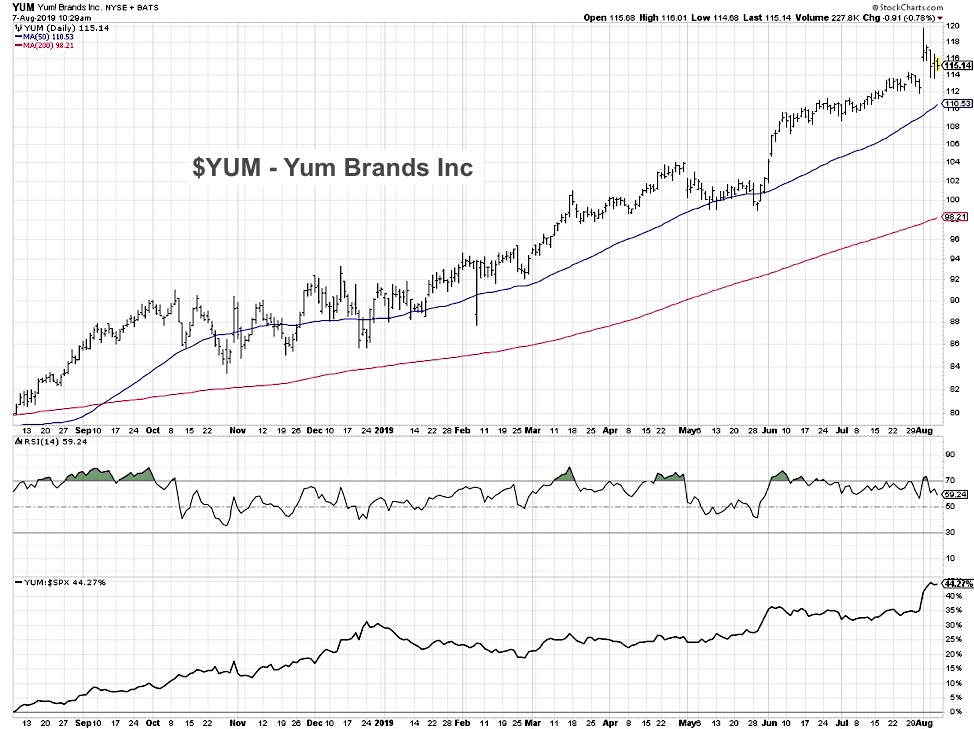 Bottom line: here is another name that is holding up much better than the average stock.
3) McDonalds Corp NYSE: MCD
The third restaurant worth considering has had an exceptional stretch of outperformance. The weekly chart of MCD shows that even with years of weaker performance (2014, 2016), the long-term trend remains quite impressive.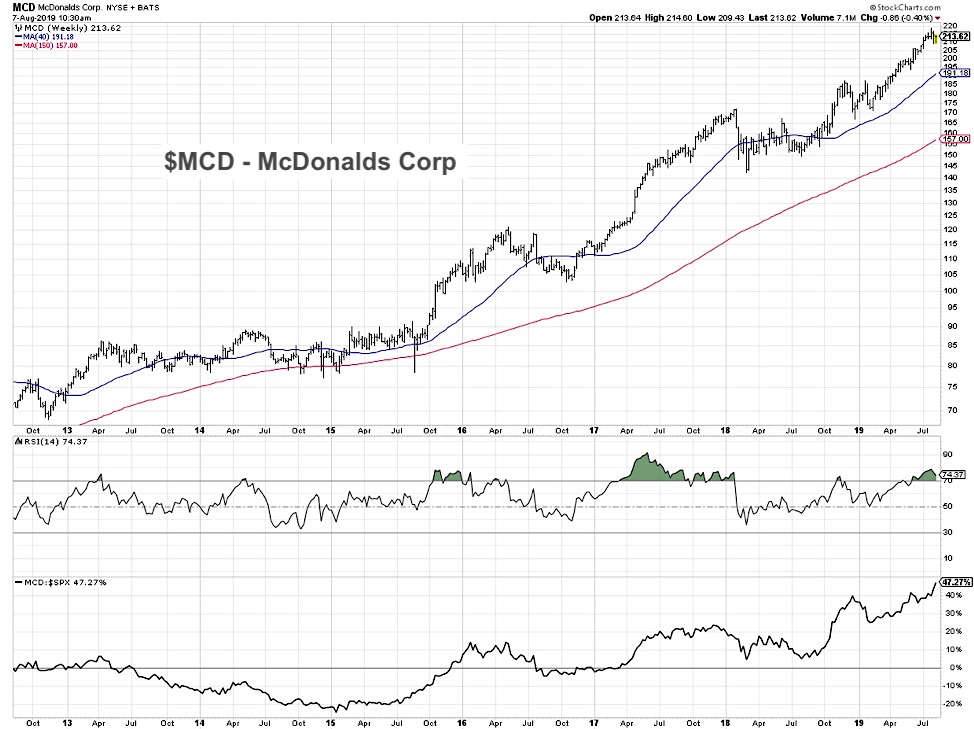 With a long-term pattern of higher highs and higher lows, the chart of McDonalds makes a great argument for the value of holding strong companies for the long-term.
When a market starts to show signs of weakness, investors have to consider potential opportunities for relative gains. These three restaurant stocks- SBUX, YUM, and MCD- look strong for three reasons. They have pulled back in a limited way and have not violated support levels, they are all making new relative highs in recent days, and all have momentum characteristics that suggest the trend remains positive.
Twitter: @DKellerCMT
The author does not have a position in mentioned securities at the time of publication. Any opinions expressed herein are solely those of the author, and do not in any way represent the views or opinions of any other person or entity.