The Japanese stock market index – the Nikkei 225 (INDEXNIKKEI:NI225) – has put together a strong rally over the past few weeks. Is this just a bounce, or is the Nikkei 225 rally for real? The Nikkei 225 rally has pushed the index up to a key price resistance point.
And this all comes as the Bank of Japan (BOJ) ponders next stimulus at July 28-29 meeting. Will Helicopters fly?
Nikkei 225 began 2.5x/2.5 year run as Prime Minister Abe elected Nov 2012 – QE starts Apr 2013, expanded Oct 2014.
Nikkei 225 eaked in Summer 2015 at 20k level – 30 year key breakdown/resistance level – as Japanese Yen (CURRENCY:JPY) bottoms.
Nikkei breaks down out of H&S in Jan 2016 as BOJ announces negative interest rates and Yen soars.
In the last 48 hours, the Japanese government unveils $20T Yen stimulus and the Bank of Japan's Kuroda says no "Helicopter Money" at July 28-29th BOJ meeting (Kuroda also said no NIRP in January before NIRP enacted in January).
The "World's Most Manipulated Market" is at a key convergence price point since its downturn. And it's a big level. Can the Nikkei 225 rally overcome this resistance?  Or better said, can it Yen?
Nikkei 225 Index – Weekly Chart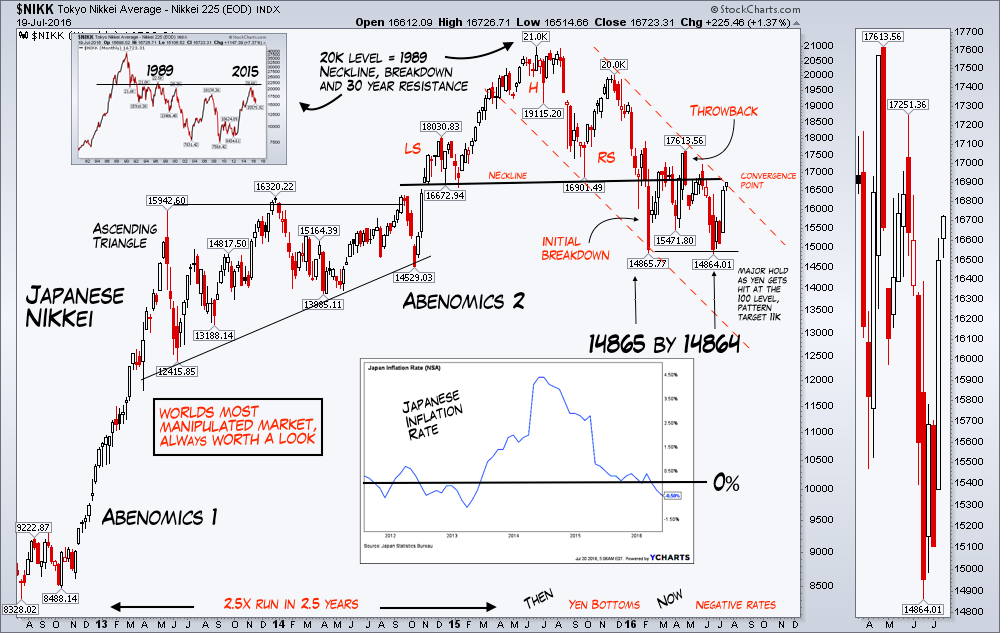 Helicopter Money. How's that work again?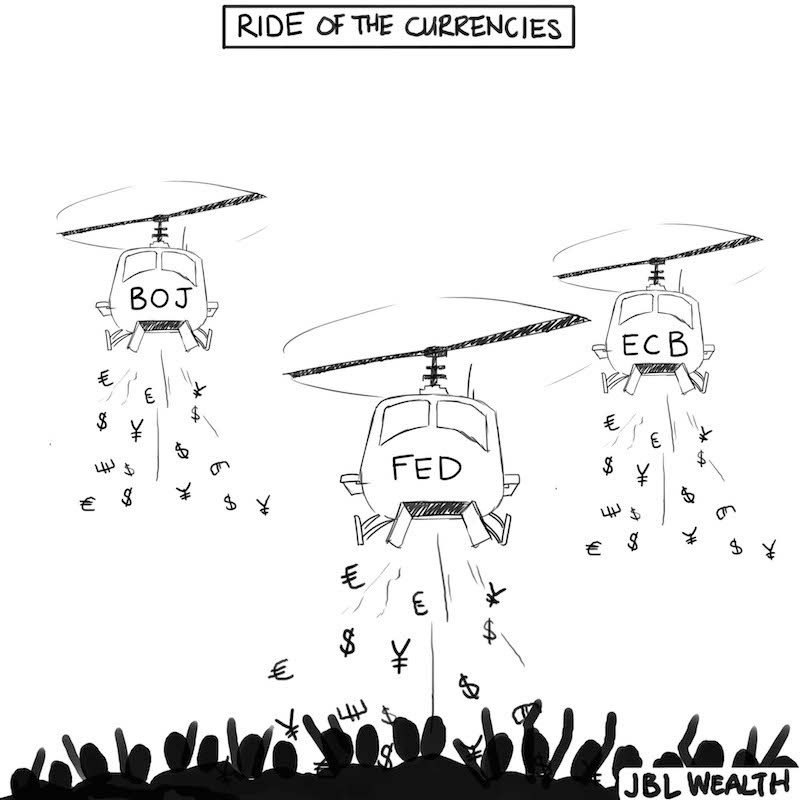 Note that most of my recent chart perspectives have been collaborations with Arun Chopra, a good friend who holds a CFA and CMT. Together, we have been blending longer-term fundamental indicators with technical indicators to do historical studies. Thanks for reading.
More from Jason:  Bullish On The Energy Sector? Wait For Confirmation
Twitter:  @JBL73
The author does not have a position in any mentioned securities at the time of publication. Any opinions expressed herein are solely those of the author, and do not in any way represent the views or opinions of any other person or entity.