It has been a historic move in the stock market this October, with the S&P 500 up nearly nine percent with just two days to go.
This got me thinking, what has happened other months that saw the stock market (i.e. S&P 500) up 8 percent with two days to go?
Does the strength continue or is some late month selling of stocks in order?
Below are all the results going back to 1980. As you can see, they are down a little bit, but nothing too extreme. More recently, though, five of the past six were lower.  Interesting to see October 2011 – that one has come up many times in conversation, as that stock market correction looks awfully similar to 2015. It should be noted that the S&P 500 dropped 2.44% over the final two days of the month.
Okay, here's the table: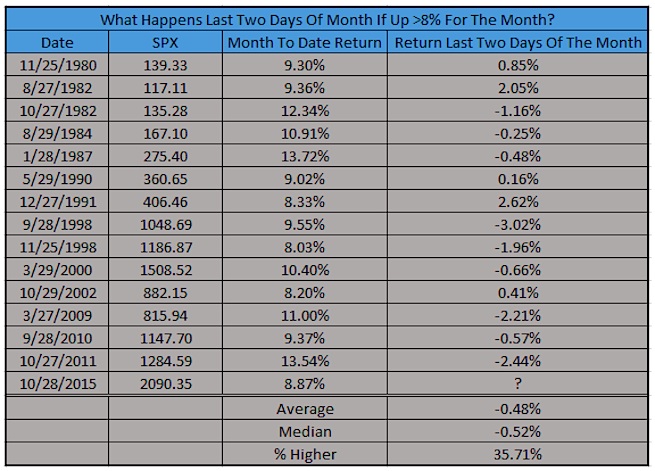 Something else to consider is the last day of the month (so tomorrow) has been rather weak for stocks over the past year. September bucked the trend, gaining 1.91%, but before that it had been down 9 of the previous 10 months.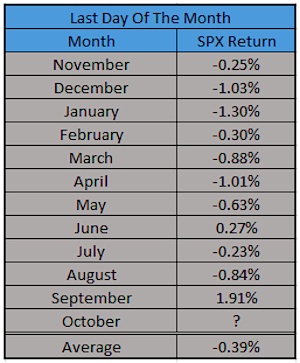 Looking at the last day of October, the stock market has been pretty flat the past 10 years on average.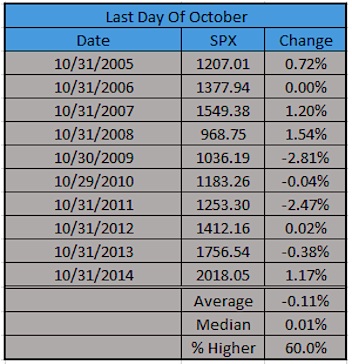 Lastly, looking at all the last days of the month since 1928, October is actually tied with January for the highest average S&P 500 return.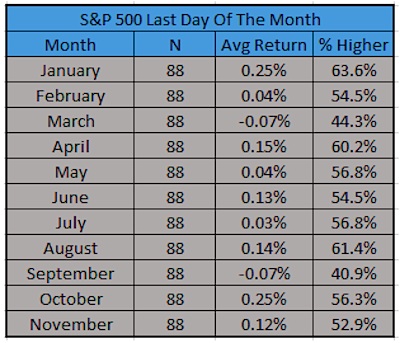 We've had a great run. I continue to think the year-end rally can continue, but some near-term consolidation at any time is very likely.
Thanks for reading and good luck out there.
Twitter: @RyanDetrick
Read more from Ryan on his tumblr.
Any opinions expressed herein are solely those of the author, and do not in any way represent the views or opinions of any other person or entity.