Earlier today, JP Morgan analyst Doug Anmuth upgraded Twitter (TWTR) to an overweight rating, raising his price target to $64/share. This was enough to buoy the stock price amidst a sea of red in the Tech sector. But perhaps even more important than the Twitter upgrade this morning is the developing technical setup on the TWTR stock chart. The move higher this morning saw the stock fall short of eclipsing a critical resistance level at $52/share.
A few weeks ago, I highlighted some key TWTR Fibonacci price levels to watch. One of those levels was the 50 percent Fibonacci retracement level at $52.12. And wouldn't you know it, that stubborn Fib level has given the stock fits for the past few weeks. Aside from a few pokes above, the stock hasn't been able to sustain a move higher.
In full disclosure, I do not own shares of the stock currently, but I do follow it pretty closely. And I believe that clearing and holding above this level is the key to higher prices. Below is a look at the resistance levels for Twitter shares.
Twitter (TWTR) Stock Chart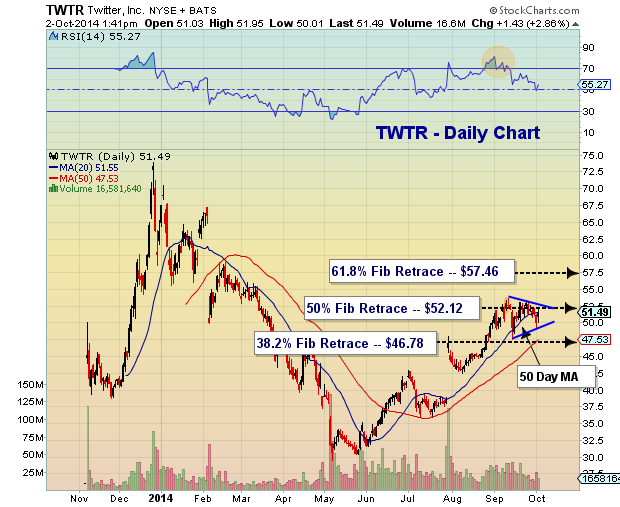 Thus far, Twitter shares appear to be working off overbought levels from late August when the Relative Strength Index (RSI) went above 70. And it's consolidation has formed a triangle that may very well decide the next move. And it appears that the convergence of the narrowing triangle meets around $51 / $52/share. See chart below:
TWTR Stock Chart – ZOOMED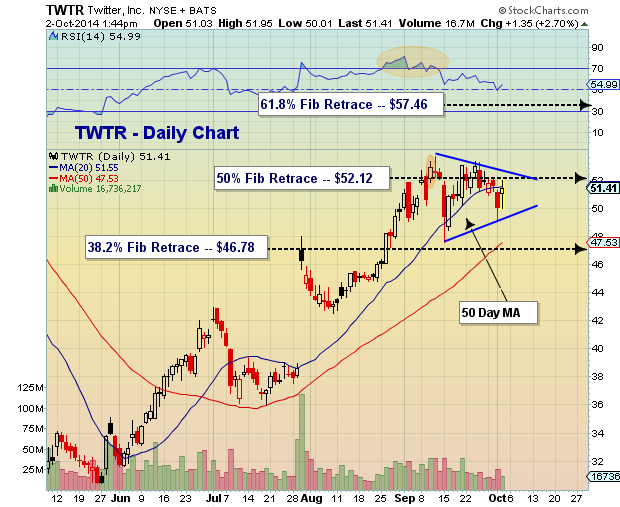 In short, the coming days are important for shares. No doubt, active investors would like to see the stock climb above $52. And should that happen, investors will have their Twitter upgrade. Thanks for reading.
No position in any of the mentioned securities at the time of publication. Any opinions expressed herein are solely those of the author, and do not in any way represent the views or opinions of any other person or entity.