The S&P 500 (SPX) fell 21 points last week to 2860, a decline of 0.7%.
Stocks chopped around as headlines mostly pointed to an escalation in trade tensions between the US and China.
Our projection this week is for stocks to chop around with a downward bias increasing into the first two weeks of June.
Our approach to technical analysis uses market cycles to project price action.
While the SPX recently started a new rising phase of the short-term cycle, our projection for this week is for more choppy action with an overall downward bias. We believe the recent shift to negative momentum is significant and will exert a downward pressure on price action.
Keep an eye on the 2801 level, which is the cycle low. If we push below that point, it is a negative indicator for the remainder of this cycle. While it's certainly possible, we don't expect this to occur however until the first two weeks of June.
S&P 500 (SPX) Daily Chart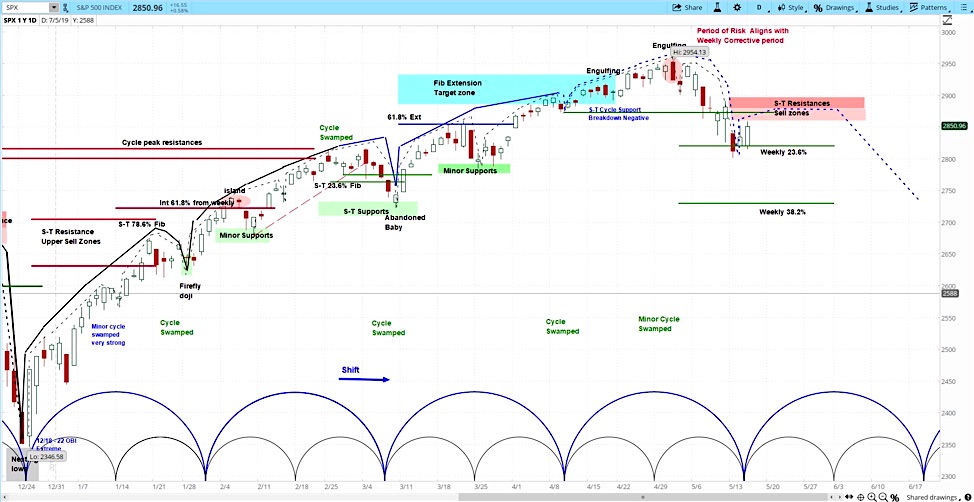 Stock Market Outlook Video – Week of May 20, 2019
The stock market was volatile last week, falling sharply early on, rallying into resistance and falling again at the end of the week, as I pointed out in the latest Market Week show.
Stocks sank early in the week on escalating trade tensions between the US and China, who imposed retaliatory tariffs in response to President Trump's tariff increase. This occurred after economic advisor Larry Kudlow had acknowledged that the trade war would impact both economies negatively.
Trump later signed an executive order that declared a national emergency with regard to communications technology. The Commerce Department then added Chinese telecom Huawei to an entity list that prohibits US companies from purchasing their products.
Deere (DE) fell by 7% after earnings came in at $3.52 compared to the average estimate of $3.62, while marginally beating revenue expectations. Yet management cut their projected revenue increase from 7% to only 5% based in part on concerns related to the trade war.
The trade war also appears to be affecting at least some Chinese firms. Technology giant Baidu (BIDU) tanked by 16% after posting a huge earnings miss of $2.77 versus a $3.99 expectation, pointing to slowing ad revenue to explain the results.
CEO Robin Li said that, "We are taking a cautious view that online marketing in the near term will face a more challenging environment." While 14 analysts lowered their price targets, no one is recommending to sell the stock.
For more from Slim, or to learn about cycle analysis, check out the askSlim Market Week show every Friday on our YouTube channel.
Twitter: @askslim
Any opinions expressed herein are solely those of the author, and do not in any way represent the views or opinions of any other person or entity.