The S&P 500 is off to a great start for the month of October. In fact, after the first three trading sessions it was up +3.49%, its best start since 1938.
Funny how quickly things can change, as on Friday morning the S&P 500 was down 1.4% at one point and the world felt like it was ending.  But now things are looking pretty good. It's worth noting that historically the 4th quarter is really strong – I talked about this with BNN on Friday while stocks were trading in a sea of red and why I expected a surprise rally. You can check it out here.
All in all, a good start so far for stocks…
Here's a look at how the first three days stack up historically.  As I said, best first 3 days since 1938: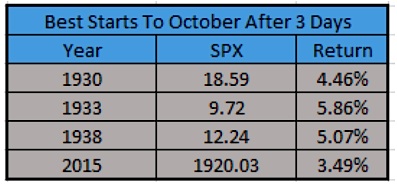 Now the obvious question for active investors is: Can the rally continue?  Well, I looked into this and seven out of the past 8 times a month was up more than 3 percent after 3 days (like 2015), the rest of the month was higher. As with most of these studies, though, the losers can really skew things. Down 11% in January of 2009 is enough to keep you investors honest.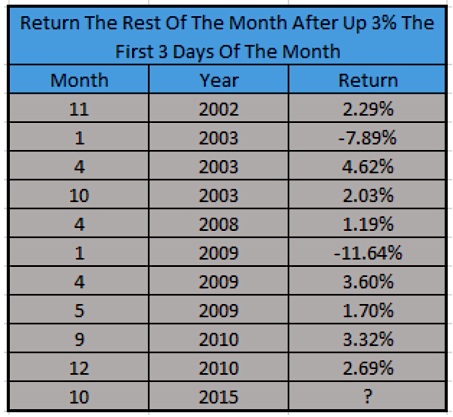 Looking at all months since 1928 that were up 3 percent after 3 days, here are the returns.  Up the rest of the month about a percent with a median return of 2 percent is rather surprising and nice for the bulls.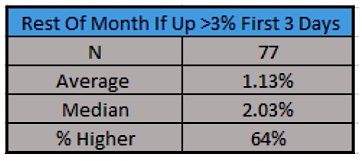 Lets not forget that this is October. It gets a bad rap, mainly because it has seen some spectacular crashes over the years. But the reality is that the stock market in October is usually bullish. In fact, looking back on the past 20 years it has been strong, and no month has a higher average gain when it's higher. So when things are good, they tend to be really good.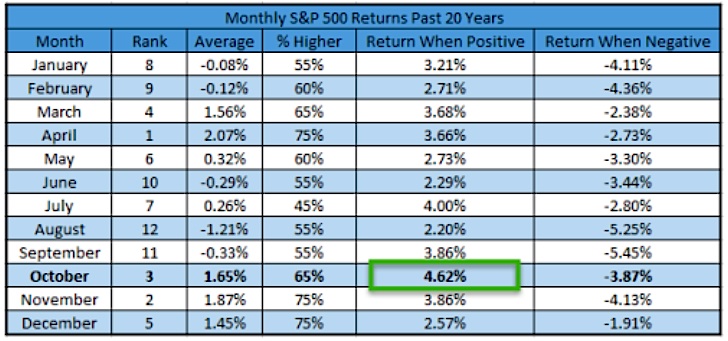 Finally, here's what the stock market in October has done the rest of the month after being up 3 percent after the first 3 trading sessions. Again, things are skewed by some huge drops in the 30′s, but a median return of flat for the rest of the month.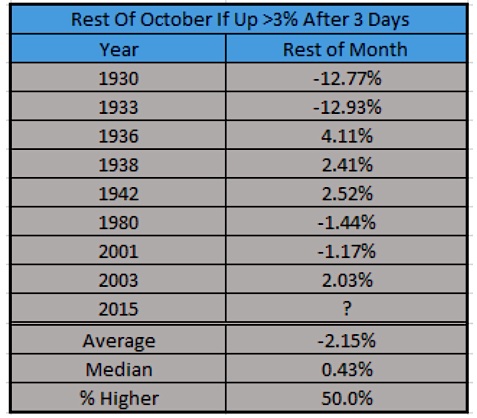 Thanks for reading.
Twitter: @RyanDetrick
Read more from Ryan on his tumblr.
Any opinions expressed herein are solely those of the author, and do not in any way represent the views or opinions of any other person or entity.