MARKET COMMENTARY
Central bank policy sitting at the forefront of news this morning as economic releases today are quiet -only the PPI figures this morning.
Gold and bitcoin continue to hold as the flight to safety with confidence slipping from paper currencies to digital hedging.
THE PRICE ACTION
The e-mini S&P, though off its highs, is holding above 2912 – a key level of support. The mini Nasdaq came right into our battle zone of 7667 where it sits at this writing. The mini DOW traders have lifted us over 26028 but seems likely to retest.
The markets appear to be settling into a range once more BUT traders remain very skittish. Volume is a bit light on these bounces. Watch your edges.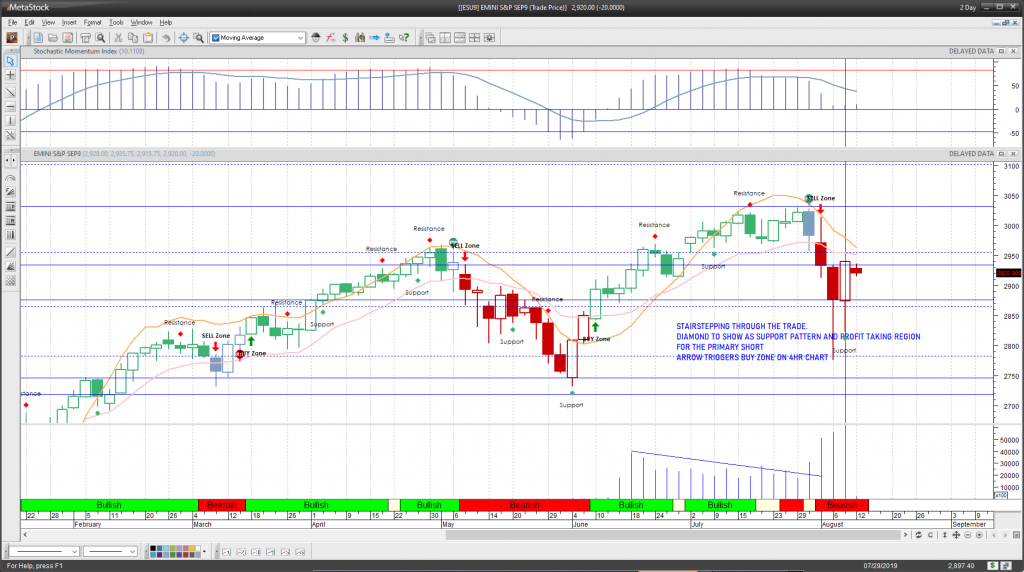 COMMODITY & CURRENCY WATCH
Gold is working through technical divergence near 1515 resistance. Trading here should be with smaller size as the smaller pullback could still break with the technical divergence even as it rises higher.
Currency moves continue at the forefront of the markets this week and over the coming months particularly with the yuan lowering driving traders away from the currency. The USD index now holds very familiar channel support near 97.3 to 97.5 remaining resilient to the PBOC move. WTI recovered well as the rig counts come in today and is now over 53 and back into heavy congestion. Holding 52 is now the floor in the near term.
INTRADAY RECAP
Cross currents continue as we hold levels near 2912 and 2921. The levels and range between 2894 to 2946 is the watch data for the e-mini S&P today. The mini Nasdaq is battling at the top of the range between 7508 to 7667. The mini DOW is battling resistance near 26288 also at the top of our established range for the day yesterday. Continue to be careful here on the edges of your charts as we could accelerate out and continue if traders get too heavy on the edges, in which case, you'll have to reverse your position. Whipsaw is likely
OVERALL WIDE ANGLE
Remains the same. Divergent action still sits below the movement of price on both sides of the trades – long and short – but traders are still looking at deep support edges to bounce – see the weekly charts for this confirmation.
Twitter: @AnneMarieTrades
The author trades stock market futures every day and may have a position in mentioned securities at the time of publication. Any opinions expressed herein are solely those of the author, and do not in any way represent the views or opinions of any other person or entity.