Heading into Thanksgiving, investors have plenty to be thankful for. Using the S&P 500 as a proxy, US equities are up 26.7% year-to-date. And if stock market seasonality trends hold true, equities will hang on to most of those gains into year end… and perhaps add to them.
With all kinds of stock market seasonality research available, I set out to carve up the past 10 years of post Thanksgiving day statistics for the S&P 500. I wasn't just curious about stocks the day after Thanksgiving, or post Thanksgiving through year-end. I wanted to get a more comprehensive picture of how stocks fared after turkey day.  Here's the breakdown:
Stock Market Seasonality After Thanksgiving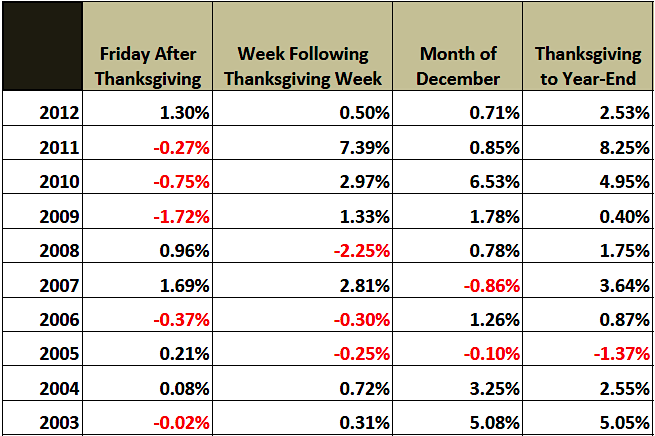 *Data sourced from YahooFinance.
A quick breakdown of the seasonality statistics indicates that the day after Thanksgiving is a coin flip for stocks, up 5 of the past 10 years (and down 3 of the past 4 years). But after that, the trends turn decisively positive for investors. Here's the recap:
The week after Thanksgiving has been up 7 of the past 10 years and 4 years in a row.
The month of December has been up 8 of the past 10 years, and 5 years in a row.
The entire period spanning Thanksgiving through year-end has been up 9 of the past 10 years and 7 years in a row.
For those of you that consume pictures better than words (and data), here's a look at the past 10 years of stock market seasonality post Thanksgiving year by year charts. And for more on seasonality trends and statistics across asset classes, check out the Stock Trader's Almanac.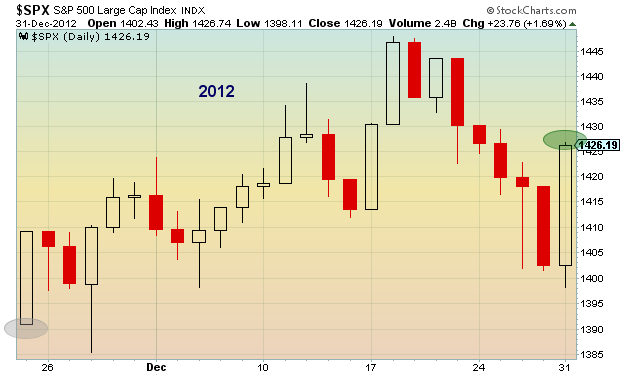 With stock market seasonality trends turning positive, the stars may be aligning for a historic year of gains for US equities. But, as we all know, the past is not necessarily a predictor of the future. And with the markets marching higher, perhaps the bulls will get too over confident and complacency will give way to under-performance. Perhaps not. Thanks for reading.
Any opinions expressed herein are solely those of the author, and do not in any way represent the views or opinions of any other person or entity.